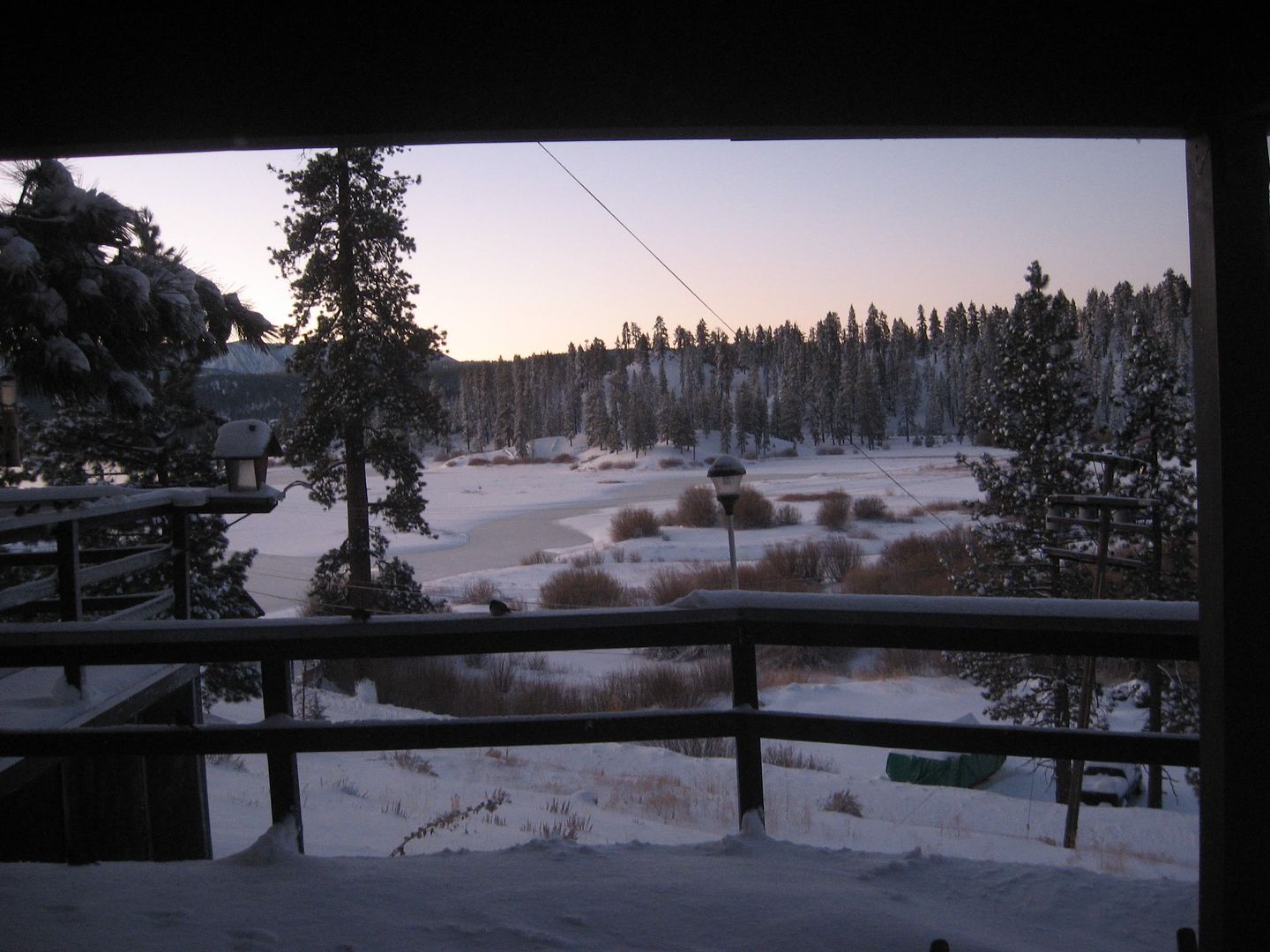 Above: Grout Bay this am and the birds hunkering down due to the cold.
Once in a while I get an email instead of a blog comment here. It usually is amusing and today I got this note from former resident Charlie who lived here in earlier days.
Just found your site and it brings me home. I'm an old Fawnskinian from 1963 – 1972, a long time ago.

I've always missed the first snow and then it all came back to me. The eight hour days I spent at the old Chevron station in the triangle, laying in the slush putting on chains for the flat landers that got caught in the mess. LOL, oh the fun.

I did a search of the only last name I could remember that lived in town. Ron Shanahan, yes he's the only one. Mention my name, he'll remember me.

I should ask if he's still alive. He should have been shot years ago. Needless to say, I have more stories which I'm sure he never told anyone. 🙂

Thanks again, I look forward to getting your Blog.

Charlie

LOL Ronnie would stick in your brain. Sometimes larger than life, his antics have always amused locals or pissed them off.
No, he hasn't been shot.
Which brings back a memory of a discussion I had over at the Big Bear Sheriff's Station one day.
I was a bit shaken and suddenly the sheriff asked me where I lived.
"Fawnskin…"
"Well you must own a gun then." He said, "Hell, all Fawnskin residents seem to have a shotgun and we don't have to come out there too much since you all take care of your own."
Really, he really said that to me.
But of course I don't have a shotgun, I have a revolver.
Doris, former owner of Fawnskin Market had a shotgun. (If my memory serves me.)
My favorite story was the one she told me about the drug dealer who was meeting people outside of the market to engage in drug deals.
She got sick of it, grabbed her gun and ran them off.
Imagine, he never came back!
Now we are a tight community and do tend to take care of our business with each other here.
We help each other, get together regularly and maybe argue, fight, and then have a cup of coffee or a meal together.
Fawnskin residents are just like one big dysfunctional family really.
Some say that Ronnie was run out of town and last I heard he is living on the South Shore of Big Bear Lake.*
Like all Irishmen, he was pretty colorful and when his dad dropped into town I thought the same thing.
Like they say, the apple doesn't fall far from the tree.
Still, we love how colorful life is around these parts–might be too boring otherwise.
It is amusing AND also annoying but it is a way of life around these parts.
We all love stories so perhaps Charlie will share one. I am sure we want to know about some of the now defunct businesses.
If it makes you feel any better Charlie, some residents still do help the flatlanders with chains around here at no charge.
Truth be told, when they get in a mess, we just want them to get on their way instead of causing trouble on the highway.
Unfortunately the Chevron Station is no more. It houses the public toilets and Fire Station 49's snow cat.
Thanks for writing in.
Now in other non news…
At the moment I am watching the birds hunkering down because of the cold. I woke up to the thermometer telling me that the outdoor thermometer batteries were too cold to function.
My old fashioned one never had that problem and the online weather report says 13 degrees but it feels colder.
Time for a warm drink…fire is already burning. High in the house is 60 degrees.
I usually love to hike after a new snow but am wondering if I will get out for it or not today.
Wow the sun is coming out now…how do you like the pics through my window?
I spent too much time in San Diego County recently to venture out on the deck so early yet–wimpy GG.
Plus, I have to dig out if I really want to get anywhere–although I could trudge through the snow–always hate the ice that is left behind.
But, knowing me, I'll take an amble because one of the reasons I live here is because it is so dang beautiful and there is nothing like to forest after a new blanket of snow….plus the next storm is supposed to roll in tomorrow.
*Just an update. Ronnie is back in town according to locals that I ran into today!
Thank you for reading this post. You can now
Read Comments (2)
or
Leave A Trackback.
Read More
Related Reading: