Above: Curly Musgrave 1943-2009
Photo by Pamela Vadino
It took a while for the news to get to me but I just heard that Western singer and mountain resident Jim "Curly" Musgrave passed away at home last Sunday, December 13, 2009.
Curly had been facing unidentified illnesses over the past couple of years but was recently diagnosed with a brain tumor.
My acquaintance with Curly and Kathi Musgrave began at one of the early Cowboy Gatherings here in Big Bear.
That year my friend Paul Hendel had called to ask me if I wanted to party with the pack–and of course I did.
This became an annual tradition for several years.
Anyway, Paul Hendel introduced me to Curly Musgrave and his wife, Kathleen that first year.
Because it was one of the early events, I was able to get know most of the performers and spent a lot of time chatting with them.
Curly gave me a CD and wrote, "May our trails cross often" and happily they did. Over the years I'd run into Curly on the mountain or at an event.
Curly was the type to always bring a smile to my face and filled my heart with warmth.
Above: Jim "Curly" Musgrave at Paul Hendel's Memorial
[display_podcast]
His Cowboy True (listen above) remains one of my favorites. When he played it at Paul Hendel's life celebration last year, the energy of the room lifted immediately.
Jim Musgrave was one of those rare people who touched your heart and soul whether or not you were a good friend–or someone who had just met him.
Curly's genuine nature was pure and unfettered–and goodness radiated from him and spread into the world through his eyes and smile.
I guess the measure of your life is how many hearts you have touched–and he touched mine and those of many, many others.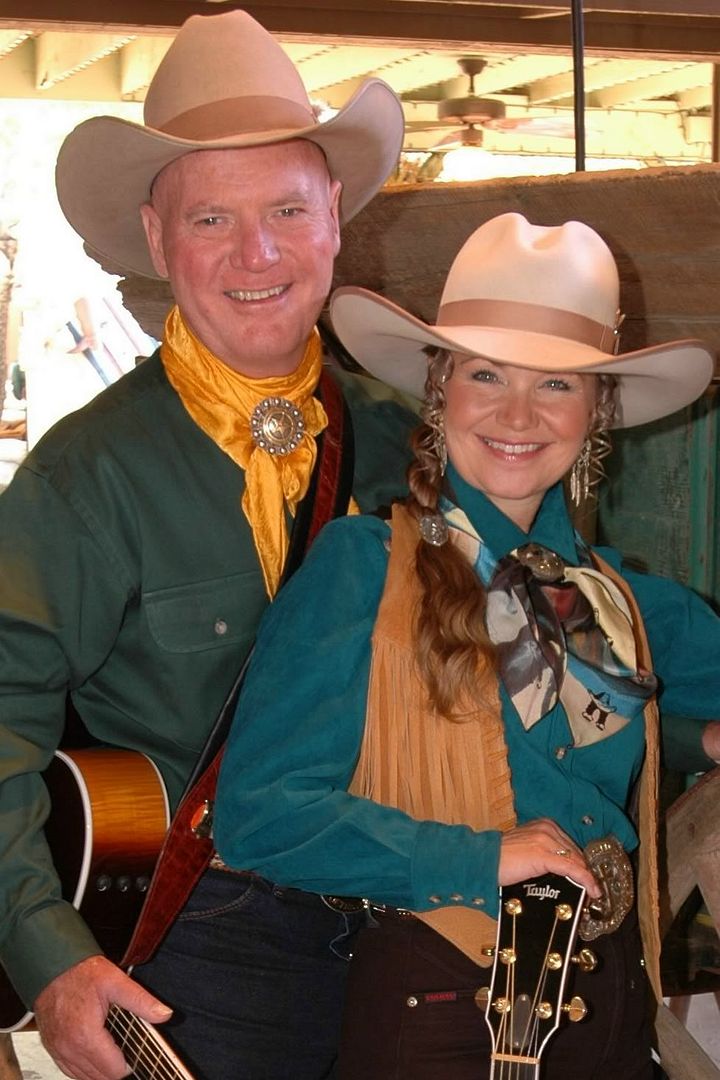 Above: The Dynamic Duo of Curly Musgrave & Belinda Gail
Curly's long-time performing partner, Belinda Gail, another fabulous person and western music performer, was performing at the Monterey Cowboy Poetry and Music Festival when Curly died.
Belinda sadly lost her husband last year and I can only hope that Paul, Curly, and Belinda's husband (Frederick) are having a great time together in greener pastures.
I guess I should mention a bit about the professional man…
Jim Musgrave, MFC MFT practiced in Lake Arrowhead and surrounding areas.
The Academy of Western Artists (AWA) gave Curly the Will Rogers award for 'Male Vocalist of the Year' and Entertainer of the Year' for 2003.
The Western Music Association (WMA) awarded Jim "Curly" Musgrave awards including:
2002 – Male Performer of the Year
2002 – Songwriter of the Year
2003 – Male Performer of the Year
2003 – Songwriter of the Year
2004 – Songwriter of the Year
2005 – Traditional Duo/Group with Belinda Gail
2006 – Traditional Duo/Group with Belinda Gail
2007 – Traditional Album – "Red Rock Moon"
2007 – Best Collaboration "El Fuego" with Virginia Bennett
2008 – Traditional Duo/Group with Belinda Gail
2009 – Instrumentalist of the Year
Curly Musgrave had been featured on NPR's Weekend Edition about his song, Escalante Adios. You can find more information on Curly Musgrave's music here.
Curly Musgrave CDs include:
Born to Be A Cowboy
Cowboy True
Our First Noel
The Heritage
Range & Romance
Curly Musgrave & Belinda Gail CDs include:
Red Rock Moon
Forever West
When Trails Meet
Curly and Belinda were working on a gospel compact disk. Curly's family would like to produce it, so if you would like to make a donation to this "quiet fund" you can do so here. While on the page you can find different memorial tributes, radio tributes and read, A Cowboy Farewell.
If you knew Curly, you can send condolences to Kathi Musgrave and her family at PO Box 512, Lake Arrowhead, CA 92352.
You can also write to Belinda Gail at PO Box 729, Crestline, CA 92325.
Plans are underway now to hold a life celebration for Curly on January 9, 2010 which will be posted on Facebook.
Thank you for reading this post. You can now
Read Comments (3)
or
Leave A Trackback.
Read More
Related Reading: