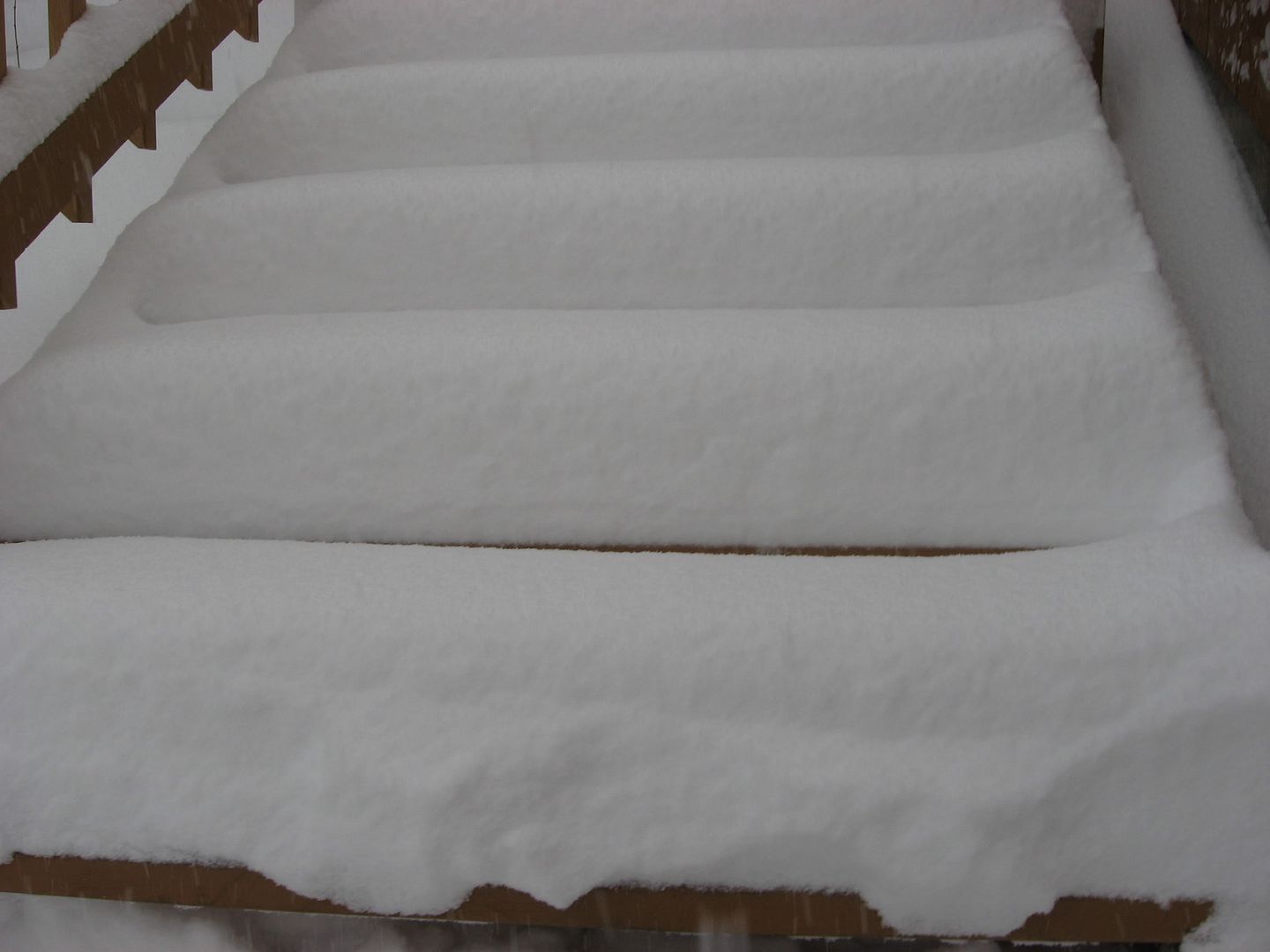 Above: Late morning view of my stairs.
So, I am happily working from the warmth of my cabin. My cupboards are full, I have alternative heat and light sources, and lots to do!
I put the soup on early and it sure was nice to have a bowl after I finished shoveling up to the parking pad.
Those of you who know me understand the feat.
What motivated me? Exercise–because I can now do it after almost two years of not being able to.
But the truth is that it started with my concern over the birds.
Above: Feeder before I cleared and fed again.
They know I am good for food on snow days and show up in droves.
Above: Bird feeder after clearing and a refill.
The snow is coming down so hard that not too long after I clear it, the pile seems almost as high!
Most everyone I know stocked up for the week. We mountain folks are hardy but not stupid.
I moved a lot of wood near the door and the decision was a good one since my other woodpile is covered in deep snow.

Above: My woodpile near the door looks about the same today. The birds try and use it as shelter too!
I heard the snowplows out early despite little snow but now they are scarce since they are covering a lot of territory. If you don't have to be out it is probably best to stay home.
It is a nice feeling to know that I don't have to clear the parking pad this year since I retired my vehicle. So much for selling it before the snow began to fall!
Not sure if my company is coming next week or not but I'll address that if it happens.
BTW: If you are a subscriber you got the most recent list of locals who are plowing this year.
Bob is already out and about for sure. He is a new advertiser so I hope  you call him and tell him GG said to!
Want the snow plow list?
Sign up for the emails and you'll get the updated one tomorrow.
Thank you for reading this post. You can now
Leave A Comment (0)
or
Leave A Trackback.
Read More
Related Reading: