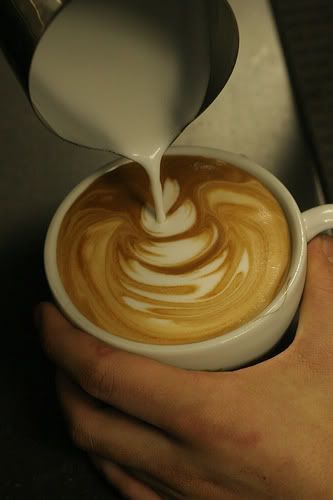 So, I braved a latte at Amangela's this week and it was awesome.
In fact, I had another because it was so great–and so was the next.
Angela just laughed at me because they have been working on it for some time. Best kept secret in the valley.
Plus, she actually had lox today. The particular dish is so popular that they are often sold out.
Anyway, I just had to admit I was wrong. They do have really good coffee and espresso these days and you should make the "long commute" to have one.
The place was jumping today.
I met a Chuck and Nancy who live on Fawnskin Drive, Cheryl and Mike, TJ & Rochelle, Judy…and of course, I had a long chat with Paul Burton.
It was a full day and I had brought some of my bead work over and so was delighted to discover that Rochelle had a stash she brought out to share too.
Nothing like a new hobby to keep you busy and to help you make new buddies.
Nancy revealed that she had a great latte over at Copper Q and confessed she was a snob like me.
So that is good news, too. Guess I am going to have to get over there and try again.
In the meantime, it has been so cold that I've been a wimp and caught a ride home twice so I would not have to freeze.
Another storm is due to hit this weekend. The storm rolling in tomorrow is not expected to hit until later in the day and to not be much of anything.
As usual, we shall see.
The word all across the valley is to make sure that you are prepared for anything.
Exciting news today was when Paul said he had big adventures snow shoeing and came across some remains of what looked like fresh remains of a predator's hunt far outside of town on one of the forestry trails.
He could not make out the tracks since the sun and snow had distorted them drastically but had one of the biologists ask him to bring back some fur samples–Paul is lucky that he didn't ask for scat.
LOL
I am NOT saying what I am thinking.
News from the MWD? From KBHR:
MWD General Manager Scott Heule explains, "The district has no ability to regulate businesses over the high water line of the lake. But once these rental businesses cross the high water line or enter district property, then there will be requirements, either for a concession permit or they'll need to collaborate with a licensed commercial marina." At the MWD Board of Directors meeting on February 18, there was public comment both for and against the proposed recommendation and, Heule concedes, marina owners were not in favor of the proposal. However, the MWD Board, now overseen by President Paula Fashempour, accepted the recommendation that will, essentially, allow for vessel rentals from non-marina businesses though, if these operations include launching or training rental customers on Big Bear Lake, a permit will need to be secured from the MWD unless these rental businesses partner with a licensed marina. Heule adds, "Amendments to resolutions will need to be voted on, which we're hoping will be at our March 4 meeting, because the boat ramps open on April 1."
Alright, I am running away for the day.
Hopefully I'll catch up with you later AND get ready because the Moose Lodge 2085 Mardi Gras is this weekend!
Thank you for reading this post. You can now
Leave A Comment (0)
or
Leave A Trackback.
Read More
Related Reading: