Above: As promised, slideshow of recent pothole photos in downtown Fawnskin
So, the pothole saga continues. I watched CalTrans dump useless repair material in some of the potholes in the photos less than two weeks ago.
Makes you wonder why they even bother.
I should have photos for you soon but the wagon with the oxen outside of Fawn Park is a mess. As we discussed this during an amble by the thing one of the locals said, "I'll fix his wagon…"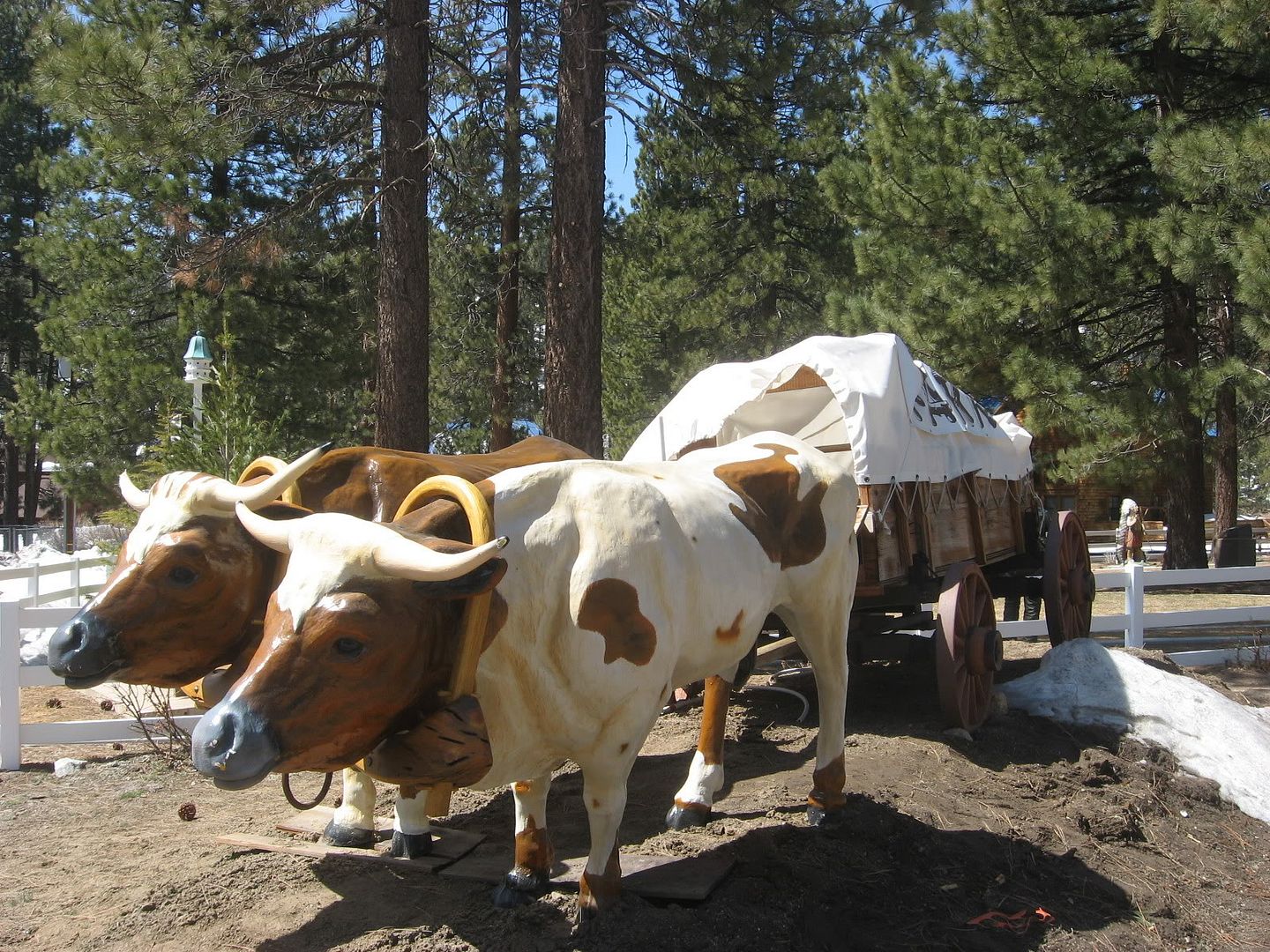 Which got all of us laughing since the park is still closed after all this time and the park owner is overdo for fixing the damage and adding more crap stuff in the private playground.
In other mountain lake resort news…
Fawnskin is having a rental boom with at least four places up for rent on Comanche, Navaho, and Arapahoe.
Rentals on the market are prized possessions since this community has traditionally been home owners–as Fawnskin residents know.
This is one of the reasons it is so nice to live here but over the past couple of years rentals have increased as people have needed the extra funds and as the housing market has been a bit precarious.
Floyd the boxer escaped this week and was running around town.
I am hoping his mom found him but, in the future, if you do see him, call the number on his tag. He lives up near Piney Ridge.
Alexis is having a great time in England but everyone is missing her smiling face and she is keeping us posted on her activities via Facebook. She promises to share photos when she comes back.
Moose Lodge 2085 was busy Monday and Kevin's tostadas have been a big hit.
He sold out of the custom shell version early in the night since people have been slowly trying other items on the expanded menu.
If you are not a member, Mondays are dollar taco night but the BIG news in the lodge Monday night was that chips and salsa are for sale but are not on the menu–only those in the know have been ordering the appetizer.
Over at the North Shore Tavern locals have been a bit distraught that more trees have been taken down.
Personally, I hope they are not planning on paving or building but at least three trees were downed on Monday and that does not bode well.
If I remember to ask about it on Friday and I'll share the scoop.
I spent some time over at Grout Creek since I had some free time after I worked vigorously over the weekend so I could take an anticipated trip down the hill (which did not happen).
The snow melt is pretty heavy but I ambled next to the creek and spied a lone trout making his way up it.
Some locals speculate that there have been a lot more trout in the creek but every time I look they must be hiding under the falls or there are actually very few to be seen.
Given the weather conditions, it is still a bit early to expect many.
Off limit areas of the forest and lake officially open on April 1, 2010 and many of us are chomping at the bit.
A few locals have reported hiking out into the forest but many areas still have lots of snow while other areas are big muddy messes.
Film buffs don't forget about the Lake Arrowhead Film Festival coming up in April.
Film, Television and Beyond is the theme of the 2010 Lake Arrowhead Film Festival that includes a "meet the filmmakers" reception hosted by television and film star Vincent Spano. Actor Ernie Hudson will serve as master of ceremonies for the Gala Awards Dinner.
The 2010 Lake Arrowhead Film Festival will be held at the Lake Arrowhead Resort and Spa from April 22nd through the 25th.
Persons interested in volunteering can send an e-mail to [email protected] or call (909) 337-7587.
Thank you for reading this post. You can now
Leave A Comment (0)
or
Leave A Trackback.
Read More
Related Reading: