Above: Fawnskin's version of a parking area barrier!
So this last week was tough just because of a lot of unfun and unavoidable tasks–like tax paperwork and other yucky things from the past that have come up to be cleared off my desk and out of my life.
I was happy to see more buds and grass clumps breaking through even though we all know it is too early to really plant or to do a lot of gardening.
Savvy locals are investing in clean up efforts due to low temperatures and anticipated spring storms.
Up top, I spied Bob's efforts at thwarting those poorly behaved parking violators.
What's a local to do?
Most of my immediate neighbors have a personal invite to park behind me if they get in a jam but we all have faced some irritating behavior from visitors and sometimes the unannounced company of neighbors hogging up space needed for our friends.
Always remember–it is good manners to ask first instead of making an imposition and then having the neighbor arrive home to no parking at their own home!
Anyway, based on the week's events it was no surprise to find myself filling some extra time in downtown Fawnskin where there is always something entertaining or amusing.
Down at Amangela's it was a testosterone filled environment with two screenwriters involved in a chat, followed by those nice looking guys from Fire Station 49.
Sometimes a gal just has to make a sacrifice and allow herself to enjoy being surrounded by interesting and good looking males.
"My" firefighter favorite, Eric (the guy who saved my life) is now going to be stationed down in Lucerne.
I am sad to see him leave but he has been here longer than most and he is a truly special guy.
Now that he is leaving I find how popular this fireman has been–plus he is the heart throb of many of the human cougars around these parts.
BUT he isn't going to be that far away, plus Mike (the Arrowhead guy) who has been filling in is a hottie–and a tad older.
So, don't fret and I'll see if I can get a snap for you all to drool over.
Alas, things are very slow around these parts and we seldom keep our firefighters for long durations since they transfer out to get more experience and climb the ladder based on how they fill their docket with experience.
We all wish Eric the best and hope to see him again in good circumstances.
In case you were wondering why all the firemen were over at Fire Station 49 this weekend–they were using those jaws of life and tearing up a car in practice.
At least the weather is cool enough to make wearing all that gear a little less taxing than it would be in hotter temps!
So, I could not take being around so many handsome men at once and next ambled over to see Mike at Fawnskin Market.
He and his wife are looking for a 2 bedroom place with a garage over in Big Bear Lake.
It is closer to his family and friends–which makes me laugh since the local mentality seems to be that 7.5 miles is SO far out of the way.
People, there are those that commute hours every day and hundreds of miles every week that would trade their situation for a "long commute" of 7.5 miles or 10-15 minutes.
I remember when Lance Fowler learned that I was moving out to Fawnskin. His comment?
"Hell girl! Yer moving half way to LA!"
Anyway, while I was chatting with Mike at the market, Jim ambled in for some supplies and because his total was $11.11 he bought a lottery ticket–and won another.
So, he got another one–and won again.
Then he changed to another game–and lost.
We were so excited at the prospects but he probably should have stuck with the same game–7s.
I also stopped by the Moose Lodge 2085 to get the address for Doris Layne's family (earlier post) and catch up with some other news.
In case you are wondering, Tony was not in a fight nor was he fighting a bear like he wants everyone to believe.
The patch under his eye was for the removal of some suspect tissue. He is doing fine.
But you gotta admit the made up stories are always more vastly interesting than the truth and nobody around these parts ever lets the truth get in the way of a good story–do they?
Michelle (his wife) has to go in for some more testing though and we all are sending good thoughts.
For those of you wondering where she has been–the gal has been working long and odd hours.
The info board at the Moose was filled with news of hospital events of locals and if you are ever wondering what is going on, head over and take a gander.
Last I heard Sister Annette was having some challenges after doing so well following chemo. If you have the latest on her, let us know in the comments.
Above: North Shore Tavern operating Weds-Sun
Back to my amble, I finally landed at my final destination which was the North Shore Tavern–where I promptly gave John a hard time about ignoring the Fawnskin Flyer in his promotional efforts.
If anything, GG is direct!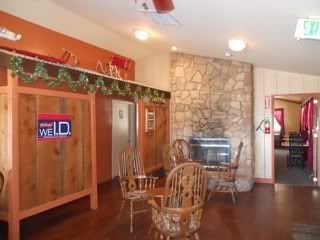 Above: Interior North Shore Tavern Entry
So I was happy to see how nice the place looks and to hear that there are dinner specials beyond the regular menu on Friday and Saturday.
Locals are excited about the Friday night dollar tacos and happy hour specials available during the week.
Above: Pool table area and band area of the bar in the NS Tavern
Everything on the menu is reasonably priced and most are below ten bucks–the exceptions being the NY Strip Steak and the Line Caught Wild Salmon.
Other dinners include Southwest Chicken Breast and an Angus Burger…plus a weekly special.
This week is was Arroz con Pollo with the featured soup as Abondigas.
Since all the folks I talked to told me to have the Buffalo Burger Frisco Style, I did.
It was good and came with a great side salad and home made "buffalo chips."
I gotta tell you, in animal trainer terms "buffalo chips" does not refer to the freshly fried thin potato strips that come with the meal!
Above: Main dining area in North Shore Tavern
Above: Another perspective of main dining area in North Shore Tavern
To drink, I had a fake beer with my meal and they also have other non-alcoholic beverages in addition to the impressive bar selection that also includes a few brews on tap.
The North Shore Tavern is planning on having some sort of entertainment on Saturday nights and is very aware of the noise concerns voiced by locals.
I like the ideas John shared and think this will be a great addition to the town happenings.
He said they want to mix it up a bit to keep things fresh and enticing.
Above: Bar area of NS Tavern
Above: Another view of the bar area of NS Tavern
If you have not been there yet, take advantage of the generous 15% discount coupon and head on over.
Personally, I think the Fawnskin Chamber and businesses in town should opt to protest the lack of trolley or bus service over to these parts.
It would be nice to get a shuttle from the hotels as a viable option to bring visitors and locals overs to enjoy the area and the many offerings the local businesses have to offer…and to offer rides to those who might have been indulging in alcoholic beverages.
Maybe a day trip type of package with a boat or kayak rental, lunch or dinner, and hiking or fishing.
Another idea I've been pondering is a "Fawnskin Ferry" service. I wonder if Fawn Harbor would be interested in marketing that and in encouraging the hotels and private rental industry to support it.
Just a few ideas as usual…
North Shore Tavern Menu
A Sunday Champagne Brunch which is made to order (but for Easter they may have a buffet). The brunch selection currently includes:
-3 egg omelet with potatos, fruit salad, toast and two glasses of champagne.
-3 egg omelet with potatos
-2 eggs with bacon/sausage, home style potatoes and toast.
-Bowl of Oatmeal
-Chilaquiles with two eggs and potatos.
Some of the menu selections from the North Shore Tavern include:
Tiger Shrimp Cocktail
Beef Empanadas
Chicken Empanadas
Sautted Sliced Mushrooms
Brew Battered Onion Rings (also Mozzarella Sticks and Zucchini)
Fried Shrimp
Baked Potato
Garden Salad
Soup & Salad
Cesar Salad (can add grilled chicken or shrimp on request)
Soup of the Day
Now it was very slow in town Sunday but very amusing over Moose Lodge way. I thought I mentioned it but there is an art thief at large in Fawnskin.
On the wall in the lodge was the infamous photo of the rare and elusive, "Moose Squirrel" who used to be fed by the late Don Easton.
The framed image hung on the wall of the main social quarters and disappeared not too long ago.
The lodge is asking for its return because it is a keepsake in Don's memory.
Now after I reported "the breaking news" on the wagon over at Fawn Park, someone fixed the wagon…
Okay, that is all I have for you today.
Have a great week, and yes, there is supposed to be a spring storm rolling in Wednesday and Thursday.
Thank you for reading this post. You can now
Read Comment (1)
or
Leave A Trackback.
Read More
Related Reading: