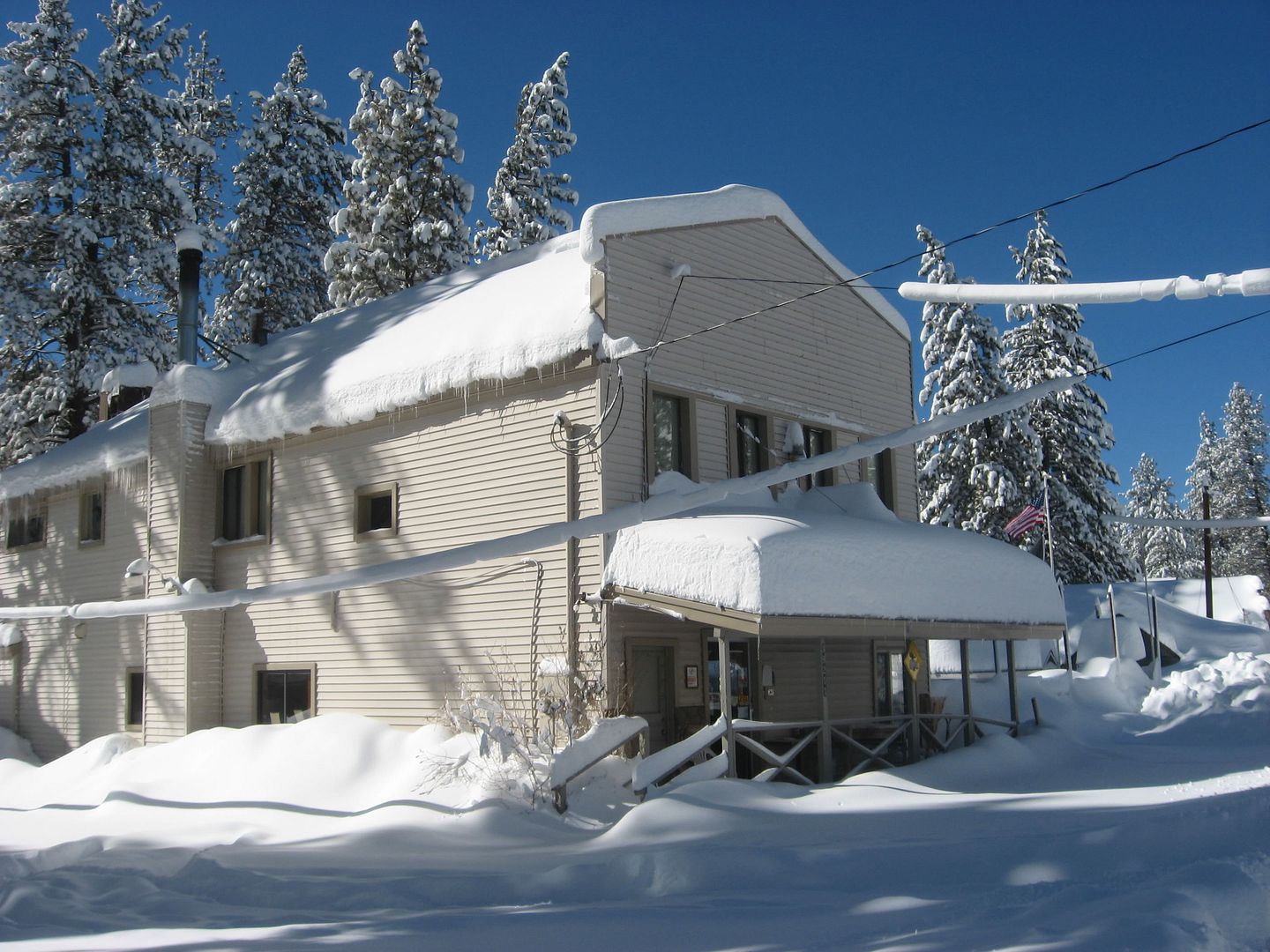 Above: Moose Lodge 2085
There is always something brewing here in Fawnskin and I'm not just talking about coffee.
This week I ambled down to the Post Office and discovered that the big news is that Herb had new seamless rain gutters installed under the eves on part of his building.
Yep, big breaking news here in Fawnskin.
I also took snaps of some of the potholes but witnessed a CalTrans employee taking snaps so I am hoping they implement some repairs and wonder if they will end up doing some better paving in the future.
This week Snoop Sister Deb and I took a very long amble through Fawnskin.
Walks are always good because we get to catch up and discover the latest changes in the lives of neighbors or in the local area.
We got to see some neighbors who were breaking up snow and found that they, like many of us, are looking forward to spring.
One of the reasons we clear snow right away is because it does become ice and is harder to clear the longer it sits.
Yesterday we were watching a couple of ravens tormenting a red tail hawk. It is amazing to observe just how in sync our feathered friends can be.
They move in synchrony as a unit and when these two were tormenting the hawk, they had no trouble anticipating his next moves an matching him.
Since the storms I've seen a lot of new birds over at my place. It has been a critter gorge fest to say the least.
They have pretty much powered through my supplies and the variety of songs and different types of bird drama has kept me entertained and amused.
Other scuttlebutt around town?
I just got the news that the funds from the St Patrick's Day dinner at Moose Lodge 2085 will be used as a fundraiser for the 2010 MS Walk.
The North Shore Improvement Association potluck is also scheduled for this Monday, March 8th at 6:00pm at the old Miller School House. Bring a dish to share and get the scoop while you are there.
Thank you for reading this post. You can now
Read Comments (2)
or
Leave A Trackback.
Read More
Related Reading: