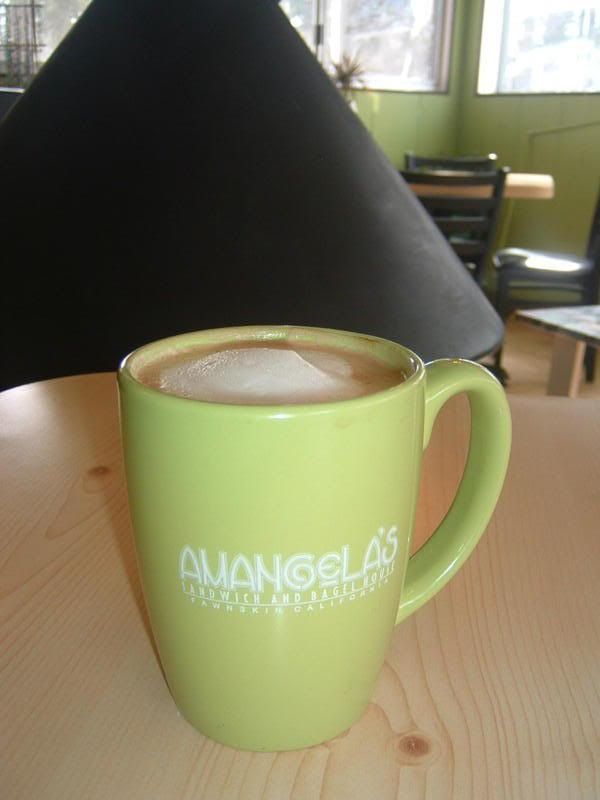 Above: GG's official decree: Amangela's has the best lattes in Big Bear
So, what am I doing over at Starbucks when Amangela's has the best latte in town?
*Gulp*
I am running errands with a neighbor and besides Amangela's doesn't open until 8am!
AND a girl has to get out of the cabin and neighborhood once in a while.
The staff over here is always great and they do have a fireplace, although it is not as cool as the chalet one that Amangela's lights every day.
Amangela's is a big secret and nobody lists the place as a good WiFi location either. (You can get WiFi at Starbucks if you have a card with a particular balance for two hours but Amangela's has better food and drinks and no limit.)
Anyway, we were glad to not see any snow on the ground early this am. Lots of ice but no snow.
Now don't get me wrong, we LIKE the snow but the intensity of this winter is making many of us ready for spring and we like to get our errands done without having to navigate crazy visitor traffic and without having to shovel out and breaking down berms.
Speaking of weather, I use the Fawnskin Weather gadget here on the Fawnskin Flyer but I also check several others.
Correspondent Rick reminded me recently of a site I forgot about, Big Bear City's CSD Weather Station.
If you are not aware, RimOfTheWorld.Net now has a weather page too.
My favorite recently has been the weather channel since they have been pretty on target but one thing about the weather around these parts–it is bound to change quickly and varies from one part of the valley to the other.
Angela told me yesterday that Baldwin is muddy and more like spring conditions while over here in Fawnskin we still have large berms and a fair amount of snow that is melting and creating big ice sheets on a variety of different roads.
The berms melt and then that water forms a thin layer of water that freezes overnight when the temperatures drop. It makes things a bit precarious.
The potholes and cinders on the highways are awful and it makes me wonder just how well the Amgen tour is going to do if that mess is not addressed by the time they head up to our quaint little mountain lake resort.
Then there are the people who barrel through town at record speeds–breaking the speed limit and splashing anyone (like me, Kay or Cheryl) as we amble innocently along the roadside when we are in town.
It is very unpleasant to say the least.
Okay, I don't have much news today but there is bound to be some heavy excitement sometime soon.
RD was up visiting but he left already and I met Sylvia, who moved to town in December and is liking life up here. She lost her husband not too long ago and relocated from Santa Clarita.
She is currently a Moose Lodge 2085 regular.
Also, Barbara's brother Pee Wee is back visiting so drop by the Moose Lodge to say hello as they are both likely to be there!
Thank you for reading this post. You can now
Read Comments (2)
or
Leave A Trackback.
Read More
Related Reading: