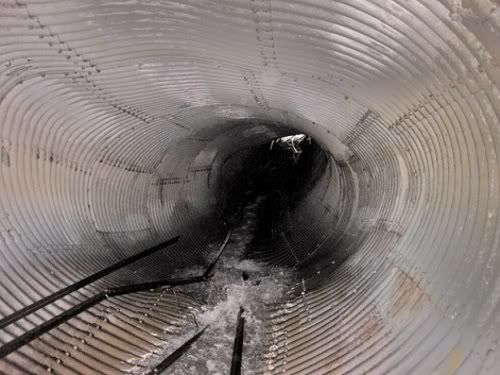 Here in the mountain lake resort of Fawnskin the big buzz has been over the closure of Highway 330–which is a bit misleading since the highway is only closed from Live Oak in Running Springs down to the main highway juncture in Highland.
Locals are a bit miffed because the thought is that CalTrans might have delayed the work until after Easter so that the local resorts and business could have benefited.
Many are still commuting down the hill using the route that goes past the Lake Arrowhead and Crestline communities.
It is a bit of a hassle and the road work around these parts always seems to be piece-mealed and it was closed for three weeks back in October of 2006 as well.
A collapsing culvert forced the closure of Highway 330 and officials say the popular way into the San Bernardino Mountains original stated that the road may be out of service for up to a month while repairs are made but the official word from CalTrans & DOT is:
SR 330
[IN THE SOUTHERN CALIFORNIA AREA]
IS CLOSED FROM HIGHLAND AVE /IN SAN BERNARDINO/ TO 2 MI WEST OF RUNNING
SPRINGS (SAN BERNARDINO CO) 24 HRS A DAY 7 DAYS A WEEK THRU 0001 HRS ON 6/18/10
– DUE TO CONSTRUCTION – A DETOUR IS AVAILABLE
Caltrans crews noticed that a section of a pipe about eight miles north of Highland Avenue was giving way just before the emergency closure.
"Because of recent storms and all the water flowing through there, it's eroded beneath the road and collapsed a portion of the pipe," said Caltrans spokesman Darin Cooke. "The earth above it is going to follow and it's causing cracks in the road above."
The emergency closure went into effect last Tuesday and repairs and involves a 12-mile portion of the highway from Highland Avenue to Live Oak Drive which will remain off-limits to motorists until the pipe is fixed and the road is repaved.
Live Oak is a popular short cut for those living on the Rim.
The culvert involved is 12 feet in diameter and 80 feet underground and repairs are estimated to cost $6 million.
The highway is not the only portion of the road that is a mess.
Here in Fawnskin (and other parts of the valley) we are seeing potholes and sink holes that are creating a lot of problems.
I've written about pothole problems before (where you can find links to report potholes) and locals have been getting annoyed with the marginal temporary fixes that wash away–and during this winter a bunch of Fawnskin Folk were disgruntled by the fact that the snow plows were running their blades when there wasn't any snow on the highway.
The emergency contractors also made a mess of things when they were called in because they plugged up drains and runoff drain areas with snow and ice.
Because they were not familiar with the roads or markers, a lot of different damaged occurred.
Next, they spent time moving the berms back after the highways were cleared and made matters worse.
Why were they not helping on other roads?
Usually it is because of jurisdictional issues. Highway contracts belonging to the state do not overlap onto the county road department.
I have to take some more pictures of the roads but here is an early one I took on the highway just East of town center.
Fawnskin Folks
Since I ventured out this weekend, I got to see Mick & Aki who always come to live in Fawnskin during the winter. They are soon heading out and so have been busy getting together with pals for intimate goodbyes.
Ed Gibson was up this weekend with his gal, Denise. He has been traveling extensively (internationally) and now makes his main residence in Manhattan Beach–near my old stomping grounds of Hermosa.
Andy and Rita are also getting ready to head out for several months on road adventures and are rumored to be heading out to view the desert flowers early this week.
Lots of people were out walking on Saturday to enjoy the nice weather–it actually seemed crowded!
I hope you have found time to do so–it still is a bit muddy but things are always good here in Fawnskin.
Thank you for reading this post. You can now
Read Comments (2)
or
Leave A Trackback.
Read More
Related Reading: