Above: Missing a few screws has a couple of different meanings in Fawnskin!
So this weekend proved to be very entertaining, to say the least!
First, I decided to partake of the fabulous "cook your own steak night" at Moose Lodge 2085 since the illustrious governor (Dave Emig) was the host (and whose mention in the famous Fawnskin Flyer generally benefits someone).
But the entertainment comes from the window views of Moose Lodge 2085 which happens to sit smack in the middle of town so you can see anything and everything going on through our block long town.
Bernie, the bartender was out on the porch taking a break when she was approached by one of the town's more colorful characters.
By colorful character, I mean someone who is reported to have a few screws missing.
And since everyone knows who I am talking about will just use the name, CC (colorful character) for short.
Anyway, you might have noticed that stackable washer and dryer that has been sitting out in front of the old Fawnskin Real Estate building (not to be confused with Fawnskin Realty) all winter.
The property owner and residents were evicted since it was one of the properties that went into foreclosure and was consequently red tagged.
Anyway, the CC told Bernie that the washer and dryer did work and was only missing a few screws so if anyone wanted to haul it away, they were welcome to do so.
Well of course, being the cub reporter that I am, I immediately associated the "few missing screws" with a headline due to the nature of everything involved.
You just can't make this stuff up!
Anyway, the past few days have been entertaining to members since everyone has been watching those individuals moving possessions into a shed behind another property (that does not belong to them) including paint and other materials that may (or may not have) been hazardous.
At any rate, when the property clean up guy arrived to haul out any remaining junk—it was gone because it has been moved elsewhere.
He did not have authority to go into any other property to haul it out, so that left us with the option of visiting the local Fire Station 49 for help.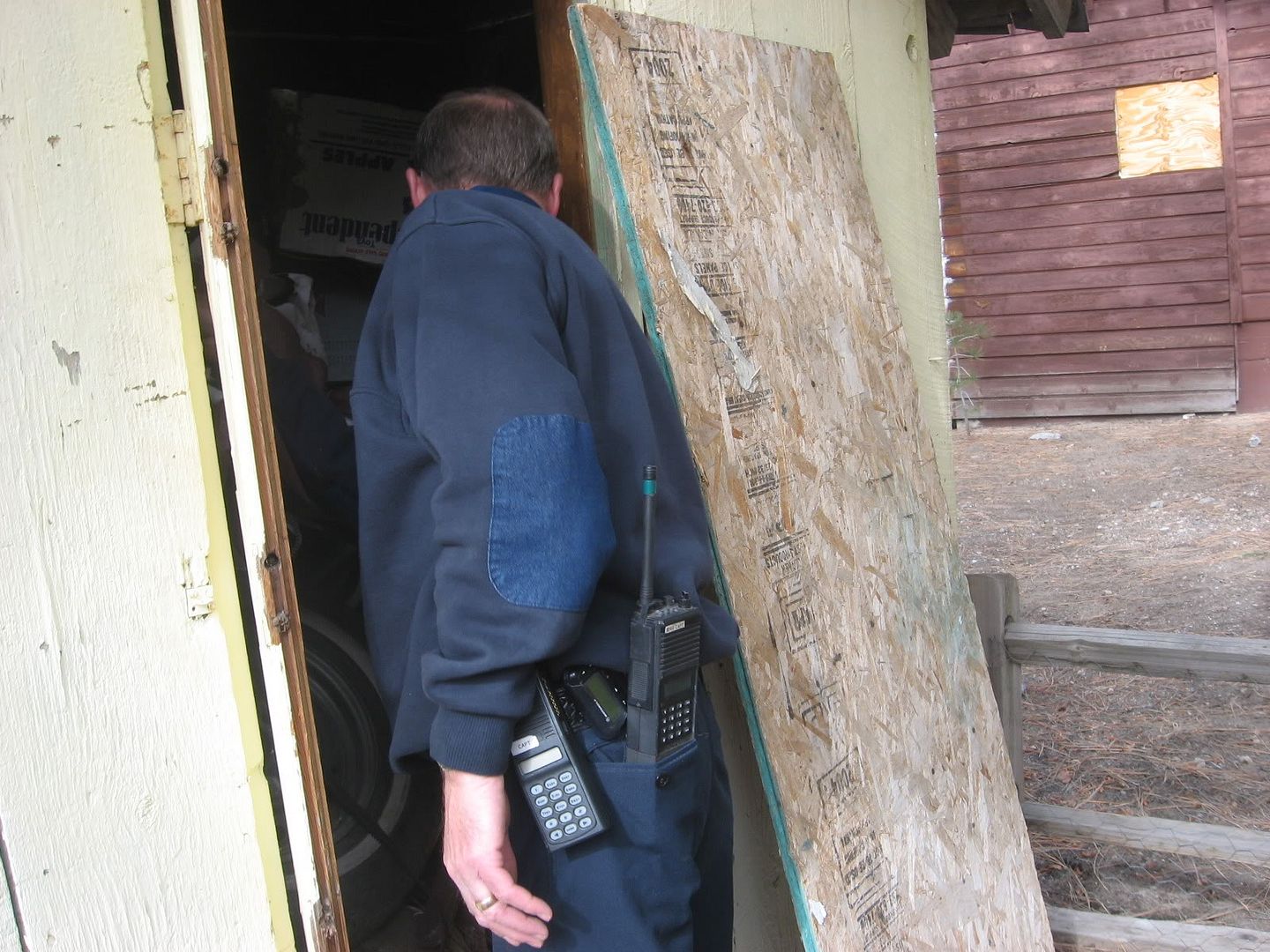 Above: Fawnskin's Finest on the scene!
After some investigative work, it was determined that Doug at Code Enforcement should be brought onto the scene.
The whereabouts of CC and her pal are said to now be somewhere in Big Bear City, they have been seen near Paradise ambling about.
We wish them well and town sure will be quiet now that they are gone–but have no fear–colorful characters seem to always appear regularly.
In other non-breaking-news…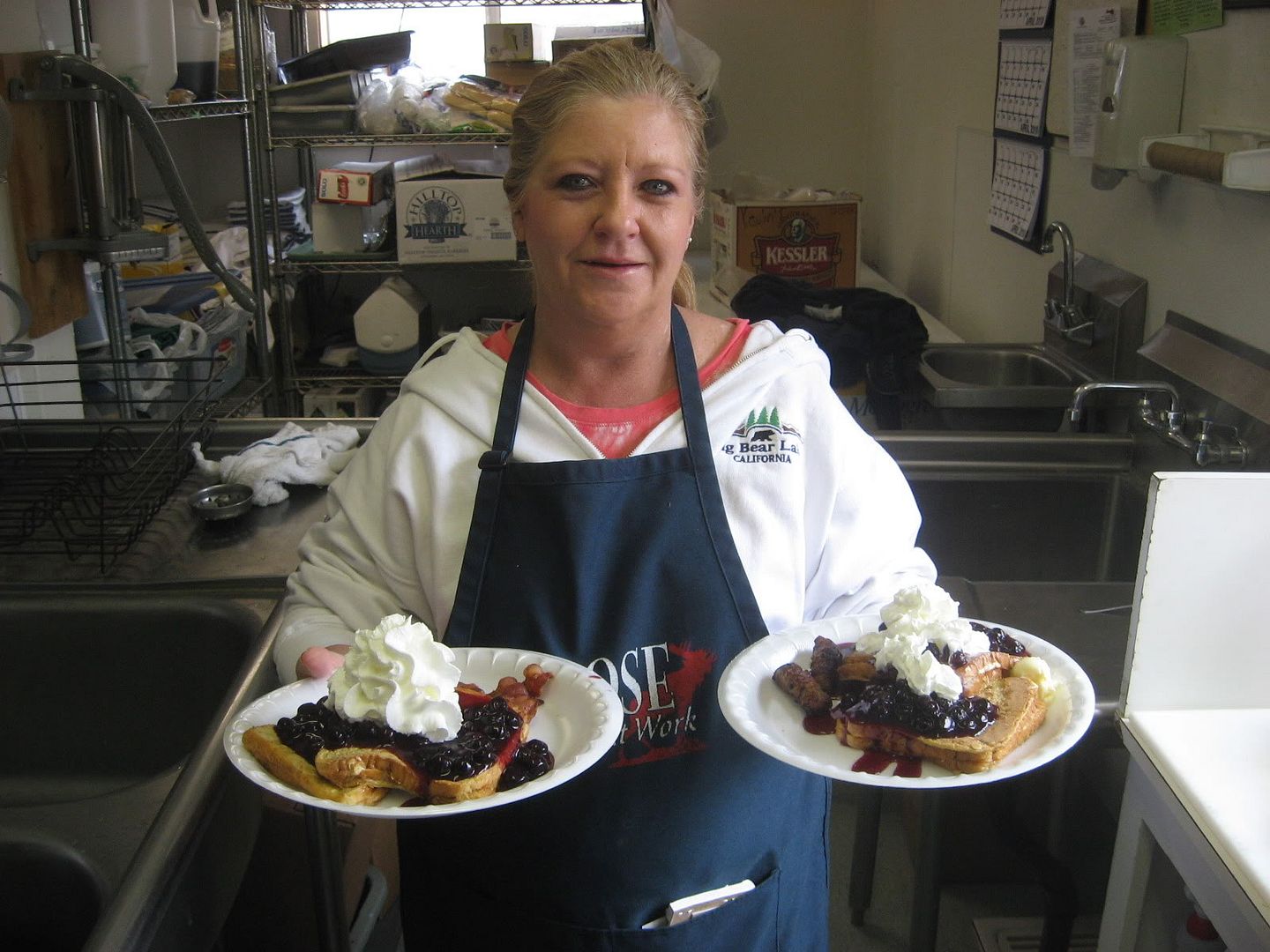 Above: Michelle serves up the goods at the Moose Lodge 2085's MS Walk fundraiser.
The MS Walk breakfast fundraiser attracted a steady, dedicated crowd of supporters and the food was yummy.

Above: Lexi aka "the little boss"
Alexis was in rare form since 7am comes way to early around these parts when nothing is open yet!
However, volunteers were cheerfully cooking up a storm and laughter could be heard resonating from the back of the kitchen.

Above: Action shot of the happy cookers at Moose Lodge 2085!
It is good to have happy cookers!
LOL
The breakfast fare included stuffed french toast (cream cheese inside) topped with blueberries (and more) and either bacon or sausage. Pancakes were another option.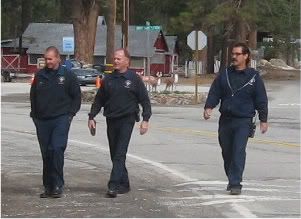 On the way to support the MS Walk fundraiser, local fire fighters took the time to check out the local concern about illegal storage/dumping.
Many of the locals are still sad about fireman Eric's reassignment to Lucerne Valley but you should meet some of the new guys (L to R: James Carol, Captain Jody Brumm, and Pet Gomez).
Take a minute to drop by and have a chat when you can. Pat is commuting up from Fontana, James happened to be up here on overtime from the desert, and Captain Jody has been a mountain resident over Arrowhead way for about 40 years.
Dog Gone It!
So, dogs have still been a big topic around these parts.
One of the neighbors has seen people feeding dog biscuits to fenced animals.
As a general rule of thumb, you should always ask permission before giving any dog any type of treats or food.
Plus, it is bad manners to feed dogs in someone's yard!
Now over on Mohawk, those mutt moochers have their regular rounds and neighbors all have treats for them and prior permission from dog man to fuss, feed, and love on them.
But behave yourselves when it comes to approaching people's pets in their own yards! You never know about allergies, special diets, or other concerns.
Sad about the Sheep
So, on my way home from the Moose Lodge 2085 the other night I noticed that the sheep have been on the  move again.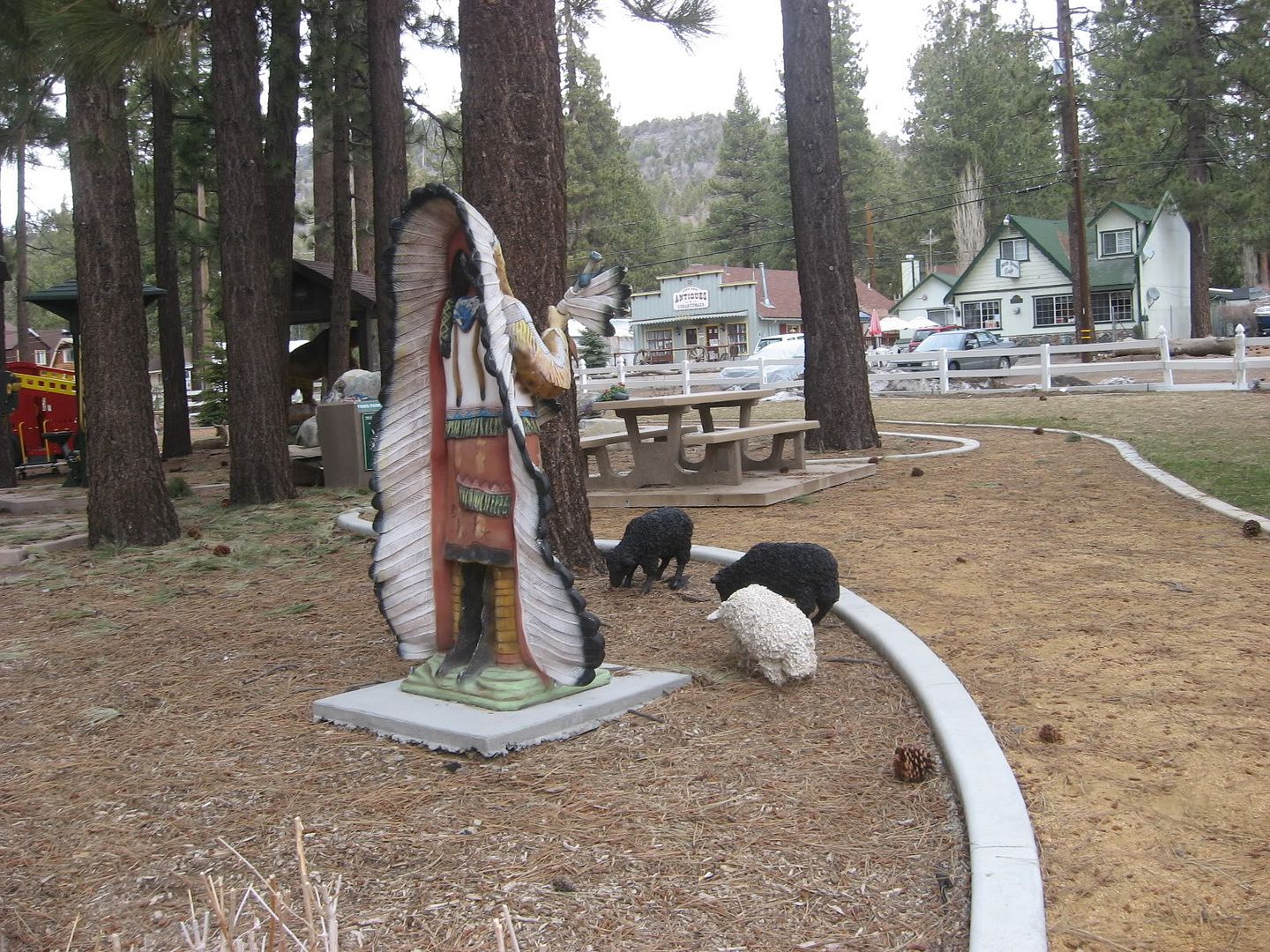 Above: Sheep on the move–meeting over and it must be snack time!
However, there seems to have been a casualty and I am guessing some kid decided that it might have been a good idea to sit on one because the back leg looks broken.

Above: Uh Oh–what happened? Or is it just my imagination?

But could it be that perhaps this is because the only acceptable sort of sheep out this way are black sheep?
Sad, but we've been also wondering about those oxen (and you'll be glad to know the wagon cover is back in place–and is better fitting too).
First, kids get placed on them all the time for pictures and the two beasts end up on their noses quite frequently.
But I keep wondering about the tire and oxen and wagon–just how is it that they are allowed to remain outside of the property boundaries on the easement?
Perhaps it is because the park owner wants more room to add more stuff inside…
Above: Decor or toxic waste dump?
Before I go today, I want to give a shout out to the neighbors I met over at Amangela's this weekend, Frank & Dana live up on Bruin Trail. (Hope you two are enjoying the read.)
On that note, Amangela's will be serving up food seven days a week from 8am until 5pm beginning May 1st!
Now you know I have more non-news but you'll have to be satisfied with this for today.
Thank you for reading this post. You can now
Leave A Comment (0)
or
Leave A Trackback.
Read More
Related Reading: