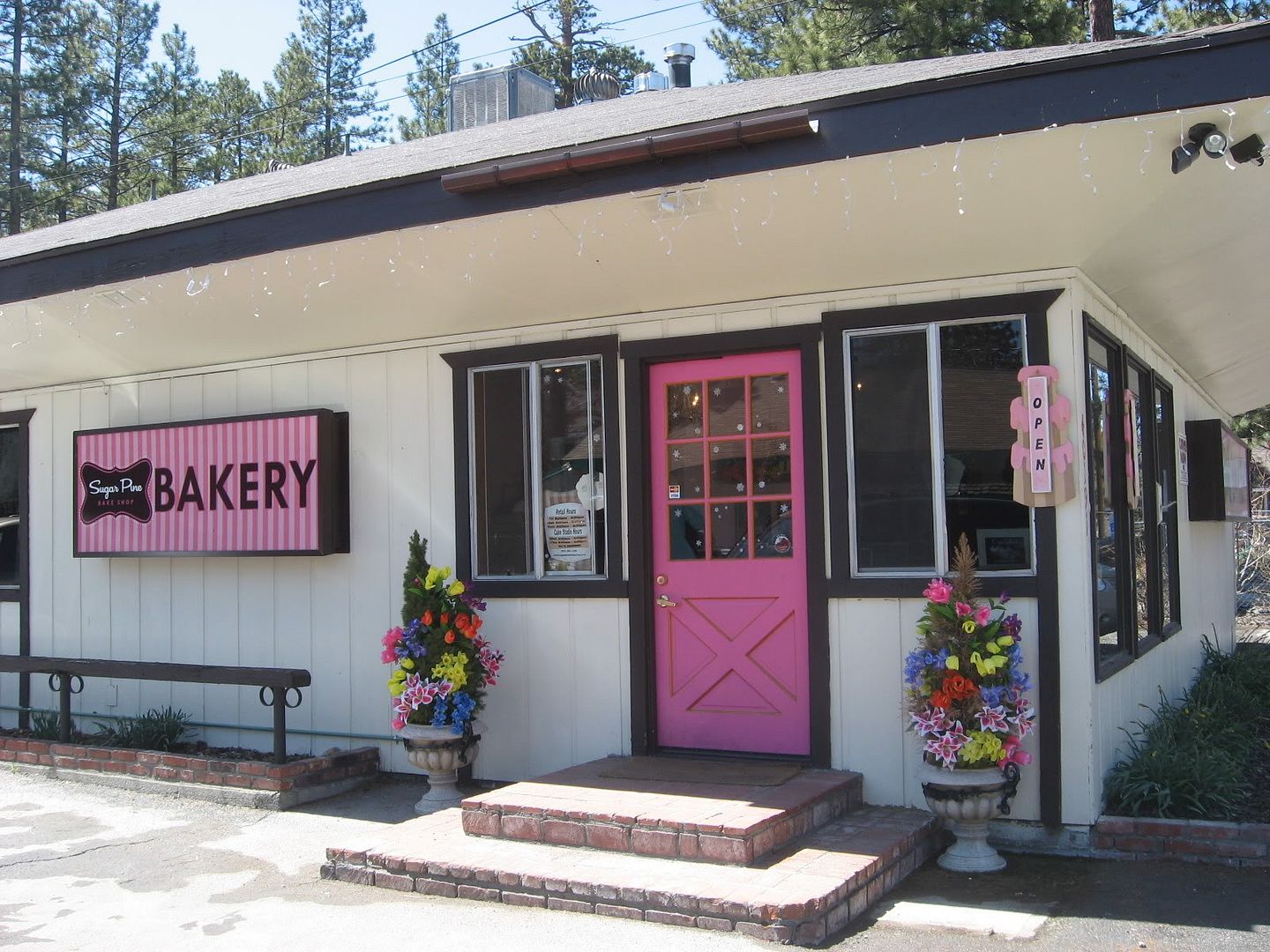 Above: Sugar Pine Bakery in Big Bear Lake (Red Ant Hill area)
So, I am a bit tired today. Stayed up late–and in this town that means past 9pm!
LOL
Yesterday I had some adventures in Big Bear Lake, problem was that most places close up at 5pm and locals can only press their noses against the windows and drool.
So when is the last time your business changed the window display?
I remember one store that never did.
The nice thing about staying open later is that you get all the business that the others miss out on.
Remember Teddy B Goods? (The store prior to Teddy Bear's Pantry.) The partners always had an aromatic pot of coffee on and a player piano with a big stuffed bear at the keyboard.
At the time, they were the only business that stayed open late and often did more in the two hour window between 5pm and 7pm than they did all day.
Simply because people were out shopping and had money to spend and they created a cozy, friendly environment to spend that money.
Now why do I mention this?
Because most places in the village of Big Bear were closed, so we wandered to those places that were open and they got the moola.
Last week I took a pal over to the Sugar Pine Bakery, a business that is open to the public only on Friday, Saturday and Sunday.
There are a few businesses that find that model successful.
For instance, that little tiny place that sells cocoa, coffee and cookies on Village Drive is only open on the weekends.
At the moment, the Book & Bean is open Friday through Monday (but I've found her open in between despite that claim).
Then there are those such as the Copper Q–open seven days a week 7am to 7pm.
Eesh!
Online people talk about letting your readers know what you are up too–and so it should be for your business.
If people know what you are up to, they can plan accordingly.
Anyway, back to the the bakery…

Above: Bread and sample cakes displayed at Sugar Pine Bakery
The place is perky and filled with a lot of different goodies that include artisan breads, baked goods, and their signature cakes that are made to order.
Funny, I've been in a few times and never have sampled a thing.
I passed the first bag of goodies to my ex-boyfriend and manage to tempt others into buying but never have been motivated to snack myself.
Perhaps this is because I am a dark chocolate type of gal and so nothing tempted me.
BUT I've had some of her cake at various business events in the valley and know they are great.

Above: Taste testing in preparation for ordering a cake.
During our visit other people were ordering a variety of goods and business was brisk.
On one side of the bakery a couple was taste testing to see what type of cake they wanted.
I am a lousy snoop but figured it must be for a wedding–because why else would they be looking at designs and tasting so many different types of cake?

Above: Sugar Pine Bakery Customers
On the other side, customers were debating which of the delectables they should select to take with them.
We gazed through the cases and then went off on other adventures–we didn't have any room anyway because we had dined at the Himalayan restaurant.
However, we did discuss the cinder sins of the city again and the immenient Amgen Bike Tour.
In case you have not heard, the bike tour will be rerouted from Palmdale to Big Bear.
The other news is that despite a lot of local rumors, it has been reported that CalTrans anticipates that highway 330 will be open by mid-May.
This is good news. I have one pal that commutes daily and this change adds over 40 minutes to her daily commute.
When I was taken down for some more medical stuff this week it added 25 minutes on the down hill trip and almost 45 on the way back.
Plus, I was a bit car sick but maybe it was because I had to fast for the bloodwork.
The big news for this weekend is that it is the MS Walk weekend. Lots of events will be happening and the Moose Lodge 2085 always has a celebratory dinner for all the Moose walkers and volunteers after.
The dinner is free for those who have walked or volunteered and only $5 for anyone else who wants to attend.
Have a great weekend and I'll be back Monday!
Thank you for reading this post. You can now
Leave A Comment (0)
or
Leave A Trackback.
Read More
Related Reading: