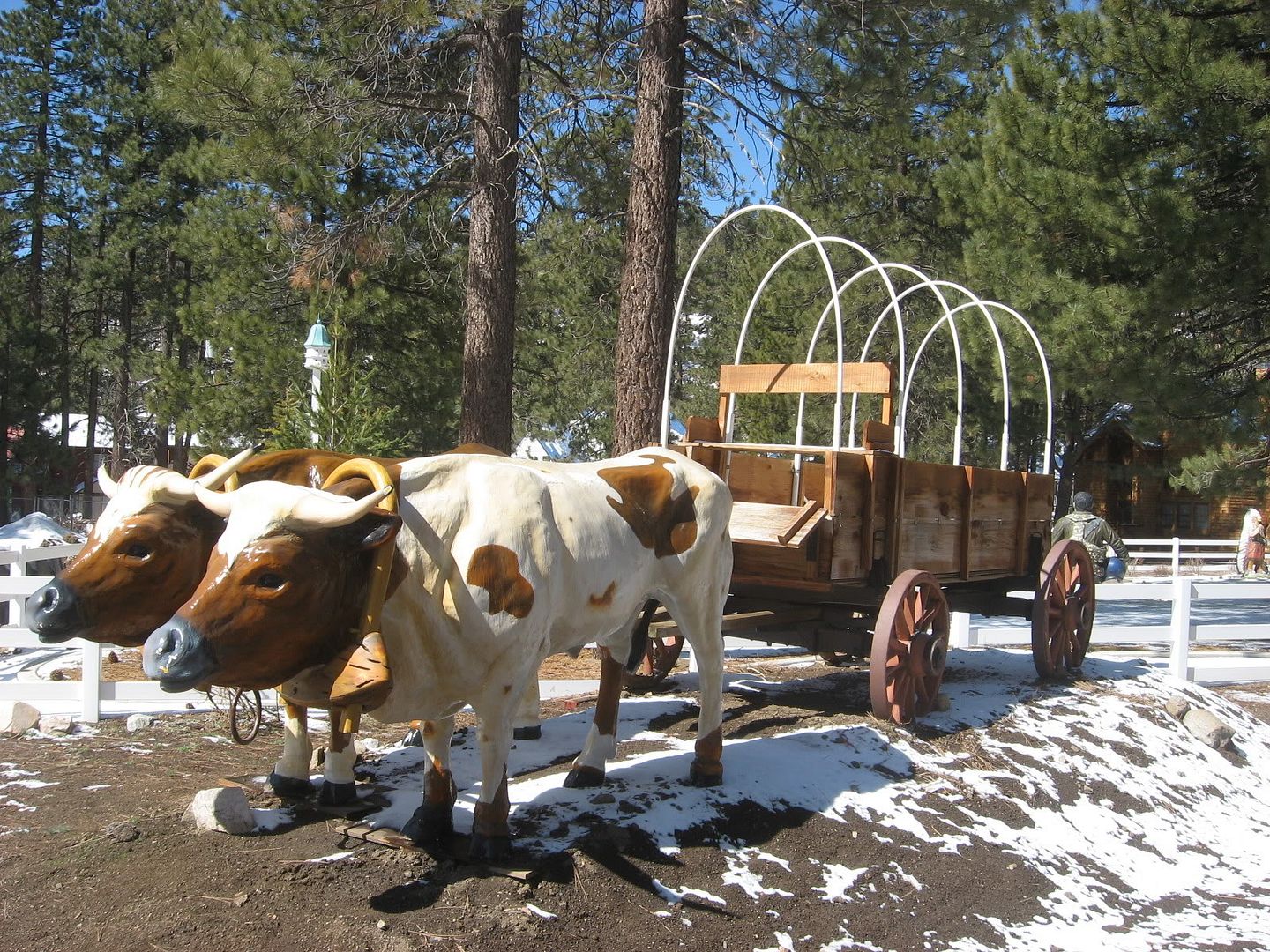 Above: Wagon outside of Fawn Park is missing the cover again.
Did I get your attention on the headline?
Sorry to disappoint you.
LOL
When you put a * behind something it in a search it turns up a lot of results…but then I just had to add a few more symbols for fun and get you to rush over here to check things out.
GG is sneaky that way.
Everyone has been worried about what might of happened to the wagon cover after it appeared for a day after I wrote about the damage.
It makes you wonder–just how slow are things when the biggest excitement is speculation over something so innocuous?
But, as small town life tends to go, it IS breaking news after all.
Then I got to thinking, all the other commercial property owners get crap when they encroach over the easement and so just how is it that the park owners have not only the oxen and wagon but also that big obnoxious tire outside of the park without getting hassled or cited?
Go figure.
Now, since I brought up Fawn Park, you might have noticed that there has been a lot of action down there this week since the park owner is in town.
Up to his usual tricks and adding more items in his private playground.
So, the other big news is that there are now three sheep in the park–two black and one white.
The amazing thing is that they move!
They were simply grazing and then it was "reported" that they landed up in a single file down the pathway.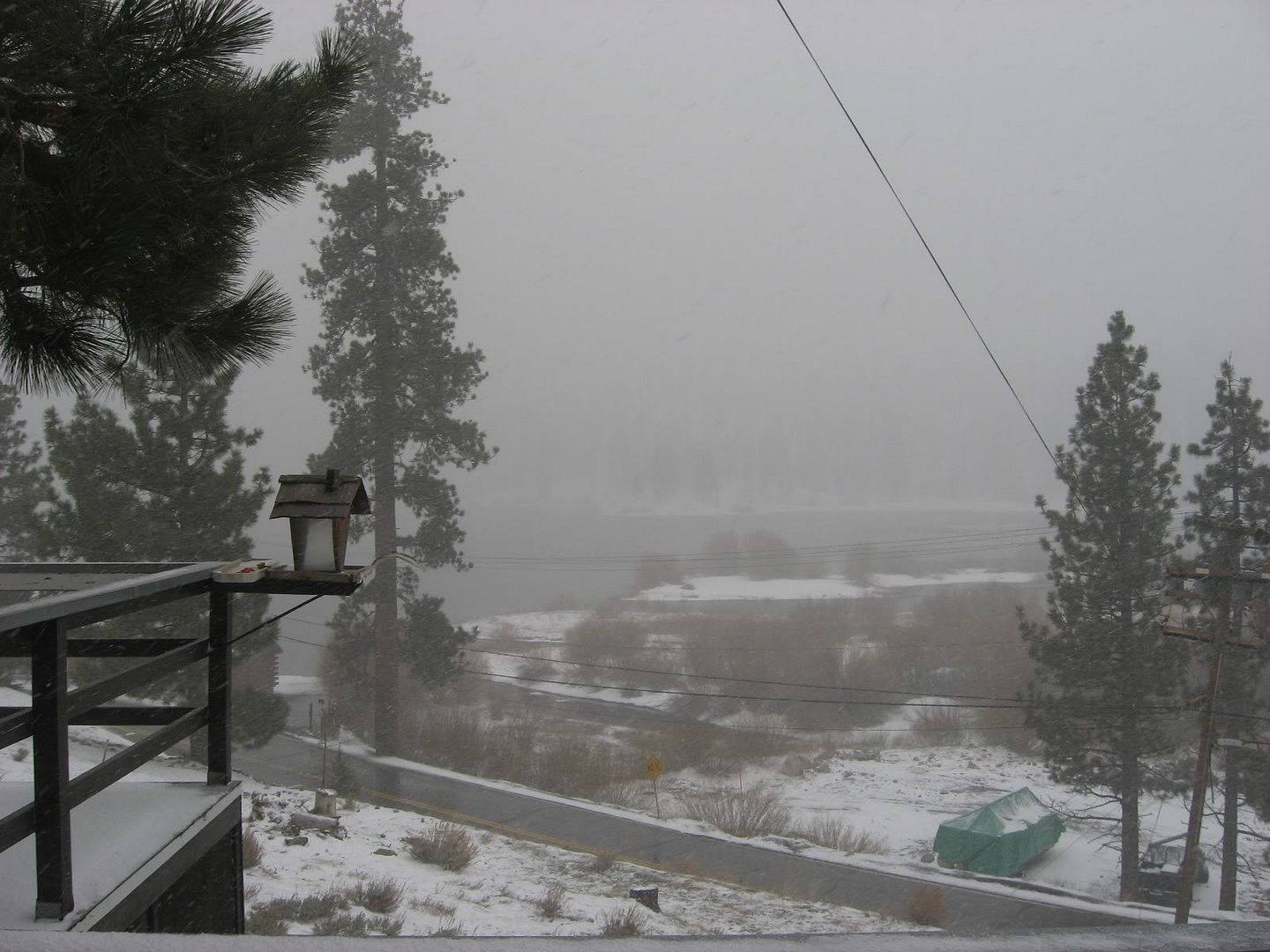 Above: Storm view on the 31st of March
Now in other exciting news there is always the weather.
Why is it that everyone around these parts believes that they are meteorologists?
And, come to think of it, why do people ask each other about the weather when the answers are usually utter nonsense?
Anyway, I have to admit that I wasn't overly thrilled on Wednesday.
I knew a storm was expected but landed up in the village for my tax appointment.
Since I was there I took to ambling and ogling–and was lucky that I managed to get a lift back to Fawnskin just as the storm hit with good force.
Sadly, my camera batteries were dead and I didn't catch the heaviest snow.
Here I got about two inches.
Happily I still have wood because it has been c-c-chilly.
In other non-news, are you ready for the annual MS Walk?
Down at the Moose Lodge the MS Walk t-shirts arrived and they are mighty fine looking specimens.
In fact, the lodge is going to order similar shirts and sell them since they are so popular.
Snoop Sister Deb created quite the stir because she has already raised some good funds for the walk and everyone was excited, patting her on the back, holding her up on their shoulders and parading around in celebration.
Okay, okay, so perhaps I exaggerated a bit, but it did create some happy buzz.
Oh dear, I got sidetracked and forgot to mention some of my adventures over in Big Bear Lake.
You know, that resort town of Big Bear Lake?
The one that has so many cinders and rocks on the sidewalks that it is easier to walk in the street…
My day over there made me think of another post I have to do called, Why I don't buy anything in your store.
This time of year is notoriously slow for merchants but to fail to greet customers or to help them because you are too busy on the computer or on the phone is bad behavior.
It made me wonder about those actions because it is so slow and so doesn't every warm body that walks into your store represent a potential sale?
I actually went in to purchase items from two stores and decided that I would not because those merchants (or their staff) did not acknowledge me nor were they available to help me.
Bad, bad, bad for them but good for me because I saved some money–and ended spending it with merchants (or their staff) that did pay attention, greet me, and assist me.
All in all, I had a great time visiting some of the stores that I have not been in lately and it was good to have a change of venue from good ol' downtown Fawnskin.
Despite what many locals  assume, the village in Big Bear is morphing into a nice place to amble, shop, and eat.
Down the main drag I do have to say that I was impressed that two of the worst looking buildings on Big Bear Boulevard have been bulldozed.
Now, if only they would get to those cinders so they can avoid any potential lawsuits when locals or visitors slip and fall–or get hit by a car because they have to walk in the street because it is cleaner and less dangerous than those sidewalks!
Thank you for reading this post. You can now
Read Comments (7)
or
Leave A Trackback.
Read More
Related Reading: