Above: Grout Creek a couple of days ago.
So, it started with a restless night and early morning (5am) in anticipation of the important doctor visit.
For results they will not send and will not give me over the phone.
After spending 10 minutes waiting in the harsh wind and pelting snow–I decided to opt out of the journey down.
It wasn't so much the journey but the hassles involved in attempting to get to the hospital, then to the clinic, and then back up the mountain.
It got me to wondering if the universe was sending me a big message–"no!"
No telling what the day will bring because all weather sources give a variety of answers and one weathercast said up to eight inches of snow.
Ugh.
Then there is the FARTA drama.
You see they only go through Fawnskin a few times a day for the OTM (off the mountain run).
Three times on the way back up the mountain and three times the way down.
That's it.
Also, if you are going to get into the village, it is worth the extra buck to take dial-a-ride instead.
But don't ask for a receipt because the person on the phone said, "I don't know of any bus service that gives receipts."
So that must make her an expert.
Google the term to see all the results, pictures of bus tickets, and guidelines about them.
On other bus services, drivers just rip a pre-printed one and toss it to you or you can get one from the machines.
This brings up a good question, if they are not tracking their rides, how do they know how much business they are doing?
And, since I always have to schedule lifts, don't they log those pick-ups?
Perhaps they simply don't want to provide receipts.
It would help if staff members wouldn't say to call and get one because when the answer is negative AND is full of attitude–it pisses GG off.
Which is also why I need to write that post on, "Why your customer service sucks" which will be part of the "Why I don't buy from you" series so anxiously anticipated.
BTW I was so stunned that I didn't argue with the dispatcher who insisted there is an official FARTA stop in front of the Fawnskin Market–you know, just look for the sign.

Above: Can someone please point out the FARTA sign "right in front of the market?"
Huh?
Since when?
I've lived here for many years, and the ONLY FARTA stop in Fawnskin is at the Triangle.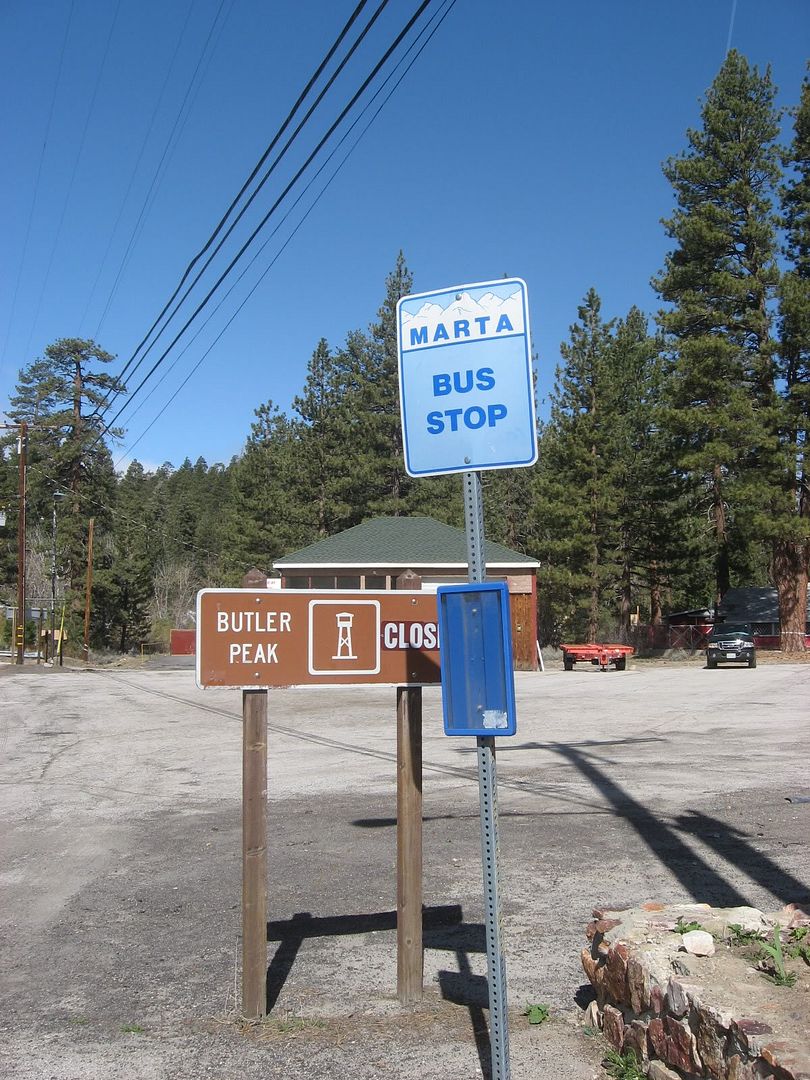 Above: One sign in all of Fawnskin–other than the fake one up on Brookside.
Every other time they ask where you want to be dropped off or picked up.
THEN, (on a previous inquiry) when I asked if their schedules had changed in conjunction with the off the mountain route change, the same person said, "No, everything is the same."
Ugh. Never mind that I see them driving by at least 20-30 minutes later on their way back up AND they cut off one of the stops down the hill to make up for it.
Do ya think that the lack of sleep, cold winds, ice and snow have me a bit cranky?
Think I will take a nap–but not before I share this little tidbit.
After retiring my truck a year-and-a-half ago, perhaps it is time to start searching for a vehicle.
I want a Subaru Forrester that has belonged to a family (or someone that never had the need for one) and needs to give it away to a nice, opinionated blogger who had to live off her vehicle fund because she was so sick.
It is good to be well and will be even better with transportation.
Okay, now for more non-news…
For the first time in the history of the MS Walk, the Big Bear Walk hit an all time low.
$39,000 (approximately) was raised, which in my opinion is pretty darn good but I think in past years it has been WAY more (over 75,000–but I forget the numbers over the past couple of years).
Then, I find out WHY.
Locals did not handle it this year–it was the MS Org that did.
No wonder!
Obviously they don't get how small communities work.
Hmm, reminds me of online social media sites.
And don't get me started on how they sold my address to other groups after I filled out my forms…
Finally, if you have been concerned about the sign at the Fawnskin Market–have no fear.
It was simply that Mike's uncle was omitted from the original paperwork, and to avoid more red tape, had to be added.
Okay, guess I had better head over for a nap and get back to my cheery ol' self.
LOL
Thank you for reading this post. You can now
Leave A Comment (0)
or
Leave A Trackback.
Read More
Related Reading: