Above: During my Sunday stumble through town I discovered that Deb got a chickadee spare tire cover. The upside? We can spot her anywhere now and spy on her!
So how was your weekend?
I managed to stay up way to late on Saturday–almost 1pm!
Don't faint. It must be a record and boy did I feel tired on Sunday–just stumbled around in a fog.
Just imagine if I drank!
On second thought, don't.
Most of us around these parts snuggle in by nightfall and the big party animals seem to roll into bed around 9pm.
Of course the adventurous types may stay up until 10pm–and there are sometimes others who live on the edge.
However, the reality around these parts is that since most things close down around 9pm–we live our lives accordingly.
Such is life in a small town.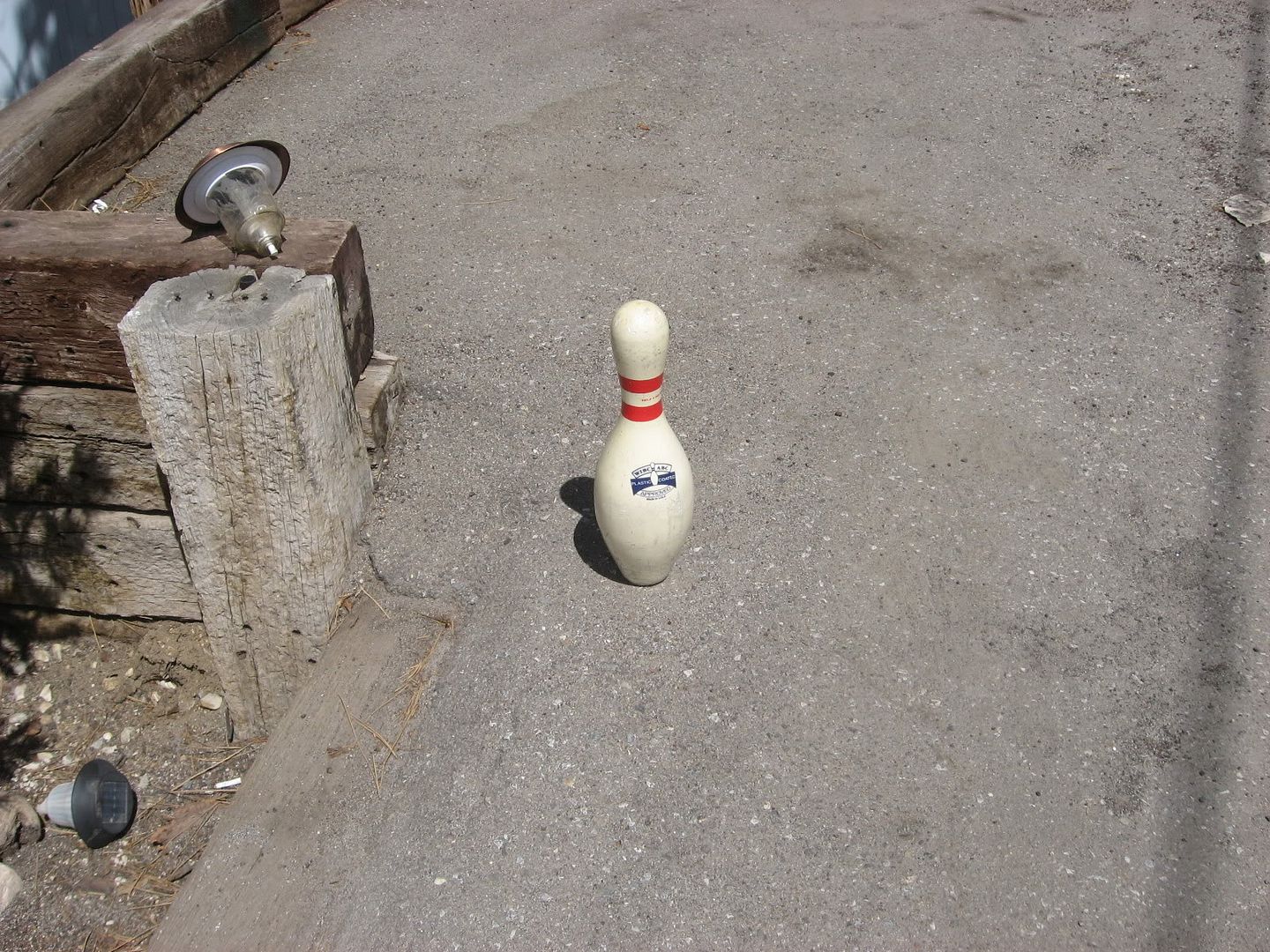 Above: Okay, you tell me! Is this a new wave of yard art for Fawnskin?
Besides, it has been cold and I am a weenie girl who has been building roaring fires almost daily.
Of course when it finally does warm up I will probably whine that it is too hot.
After all, my ideal temps are between 32-70 degrees Fahrenheit.
But the good news was that I did not get up with the birds and instead stayed snuggled in until about eight o'clock.
The worst part is that once up, I began working on my family tree.
How is it that HOURS go by before you know it? Somehow you never seem to make much progress–at least I didn't.
Plus, I got sucked in and forgot to eat, forgot to dress, and didn't even open the blinds.
Eeesh!
So it was off the the Moose Lodge for a late breakfast.
For some reason I failed to remember it was Easter weekend.
This is a problem when you work from home–every day is about the same and all the days run together unless you have something on the calendar.
Plus, I've been pretty busy working and so time passes without me noticing too much.
I ventured out for a walk on Sunday despite the cold and watched the incoming storm threaten the valley by lurking below the horizon line all day.
Now I happen to love brisk winds and changes in the weather–probably because we have so many sunny days.
It got even better because I got invited over to a neighbor's house for good food and conversation.
Above: Daffodils in upper Fawnskin, I still have not seen any yet down at my house.
On the way home I stopped by to chat with Tess. She was busy hauling in  wood and is one of the Fawnskin Folks that is also working on the census.
Seems they have a bunch of people from down the hill working this area. Go figure.
Rachael over near canyon happens to be a crew leader to a bunch of people from Highland–and won't that be nice for them with the long commute due to the road closure?
I've been seeing notices on a lot of homes that don't have anyone living in there and it makes me a bit cranky–just like when those weekenders are thrown all over the place flagging those who pass by with the news that nobody is home.
Lots of people were up for the holiday.
Marty had his mom Joan visiting and Tabby (the dog) is getting pretty gray.
Chet had some work done on his cabin which alarmed me at first because they were working on Sunday. But they worked hard all day.
I met Tony who lives in one of the newer log cabins (and whose weekenders I toss into his recycle bin) and we had a chat.
However, I did not know that he built both his and the one next door (which just sold).
Candy had an open house and didn't even tell me so I missed snooping on the house with the great view.

Above: Lower level view from the house Candy Hallstead is selling.
At least snoop sister Deb was on it!
On the last stretch home, I stopped by to visit with Joe and Mary Lou over on Cedar Dell & Brookside.
Mary Lou brought up some concerns about She-ra, the red brindle dog on Mohawk.
I've heard She-ra has been terrorizing people a lot lately and Mary Lou said she was pretty worried over it and altered her course on the way back to her house.
The dog has been limping and I wonder if that is making her more cranky and boisterous than usual.
Even I actually had to run her off the other day.
If you see her just tell her to "Git home" or "Knock it off She-ra!"
That usually does the trick.
Remember say "Git" not "Get" as this is a very important distinction.
Rural dogs don't have the same type of vocabulary as the urban hounds.
The former Las Vegas residents own three nice dogs themselves: Tank, Bear, and Sadie–plus a little old gal named Trixie.

Above: Prototype of the dog log cabin made by neighbor Joe.
Anyway, Joe has built a prototype log cabin dog house.
The interior has a raised platform and it is insulated. It fits a mattress in it and can fit a human inside with the crew–his happen to love it.
He has plans for making it more manageable and friendlier for moving so stay tuned for the next version–but if you see him and need a solid outdoor sanctuary for your critters–have him fill you in.
Finally, the bears (speculated to actually be three individuals including one gray muzzled guy) have been a bit scarce and we all hope that the snow melt has helped lure them back into the wilderness so they stay away from the trash and bird feeders.
Thank you for reading this post. You can now
Leave A Comment (0)
or
Leave A Trackback.
Read More
Related Reading: