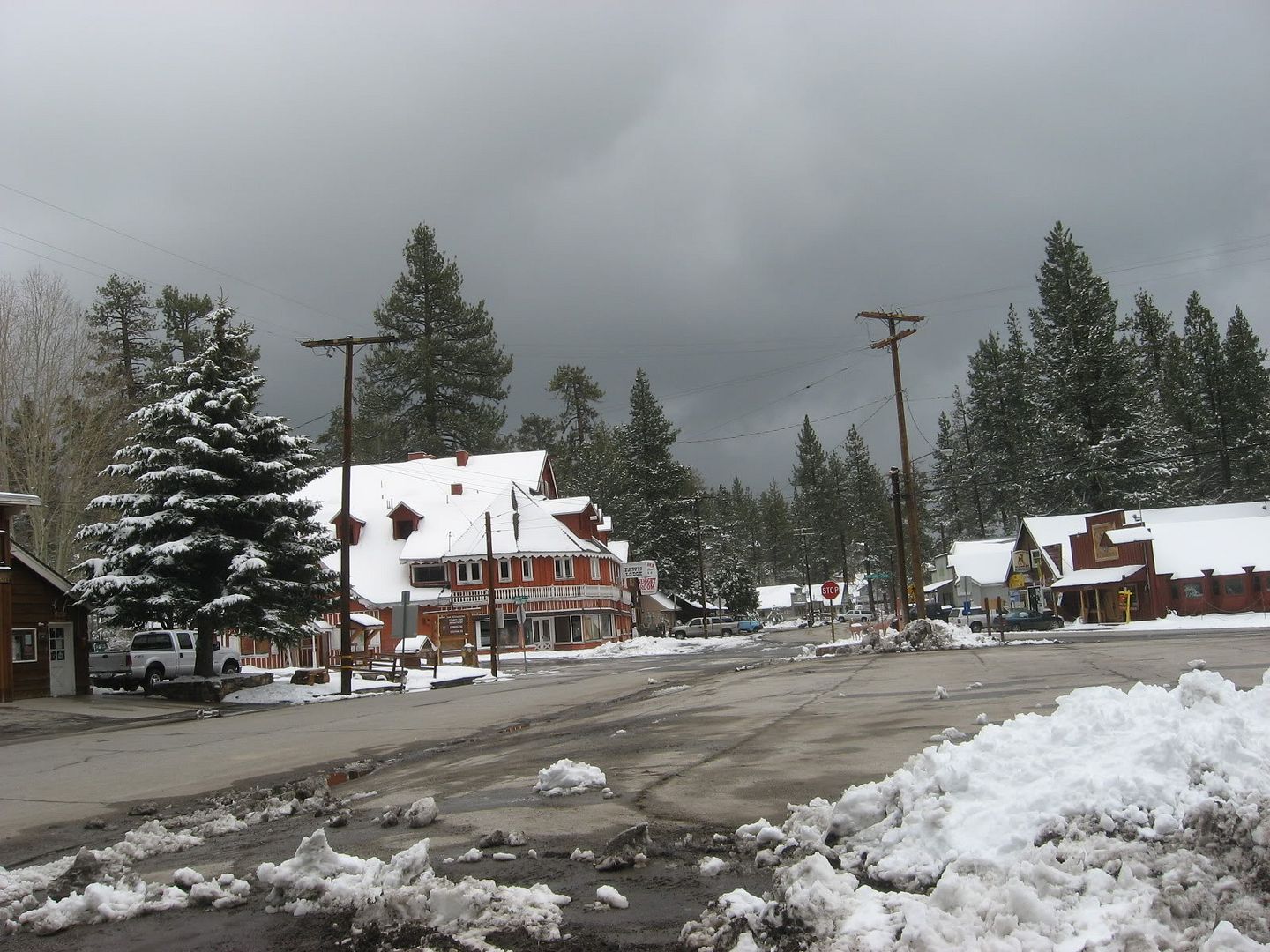 Above: Last week's storm might be repeated this week too!
One of my pals who owns property in Fawnskin commented on the new four letter word around these parts.
It caught her by surprise since it is a regional anomaly and when she used it a few times it resulted in violent reactions from the locals.
I thought I would warn you, that word is s-n-o-w.
Use caution since any mention of it will get locals to foam at the mouth, shake their heads and shake their fists at the sky, or pace and wring their hands.
I fully expected to wake up to more white stuff but only woke up to the heavy howl of the wind which is bringing the storm in.
The clouds are lingering at the top of the ridge–waiting until we fail to be vigilant in our efforts to wish, pray, and chant away the inevitable.
How soon we forget that we've had a long drought around these parts and that the lake and forest will come to life with a bountiful yield from this winter…
Alright, alright–enough of my cr**–I'm with you, tired of snow but not too anxious for summer.
However spring would be nice.
We just had a couple of days where everyone was out cleaning and clearing their yards and properties and now, back to the stormy weather.
Locally there are some activities you won't want to miss this weekend.
Moose Lodge 2085 is holding a town clean up on Saturday, May 1st and you can sign up to help down at the Lodge. It usually begins at 10am so get there a bit early.
Amangela's is celebrating another anniversary on May 1st and invites you to drop by from Noon on for live music on the deck and other celebratory adventures. Howitsdone will be playing.
The trout are creating quite the stir and new visitors and locals can be seen gazing at them daily. The water is hypnotic and you'd be best to visit before the creek begins to dry up.
Yes, yes, I still have to edit that video to post and have not forgotten.
Shout out to Carol for helping me out with my down-the-hill trip yesterday. I always think I am fully recovered until I end up having to nap for hours after such excursions.
In case you were wondering, the Subaru Forrester was never delivered–still waiting on that sponsor or good fairy to get it here!
Other Town News
I was surprised and saddened to hear that Jim took his own life last week.
He was always cordial and friendly.
I'd often chat briefly with him as I walked through town and he was always visiting with other neighbors and was a big help to Roger, who is confined to a wheelchair.
Word is that Roger is being stubborn about accepting any help–so if you are around and drop by, don't let him scare you off.
Since I didn't head to town yesterday until after 8am, I missed all the excitement.
Two Erwin Lake residents with a young toddler headed out to Holcomb Valley and ended up rolling their vehicle.
Mom called the Sheriff's Department when she returned home to an empty house.
The trio were forced to spend the night out in Holcomb after they rolled their vehicle.
Fortunately, they hiked into Fawnskin's Fire Station 49 yesterday morning.
Fawnskin's finest drove them to the hospital and all three were checked and found to be fine.
Finally, you might have also heard the news that the Moonridge Zoo will not relocate to Fawnskin as originally hoped. Property at the other end of the Big Bear Golf Course will be the location.
The property is currently owned by the Robert Gumbiner Foundation and will cost about $1.5 million dollars. Funds will come from Proposition 40 state park funds and by the zoo's CIP budget.
Locals have shook their heads over how stupid it was not to purchase the property the zoo sits on in the first place–but we are all glad that this issue has finally been put to rest.
The great news is the location will allow the zoological facility to expand from 2.5 acres to 10 acres
The Moonridge Animal Park began as a wildlife rehabilitation facility and is currently home to 150 birds and animals (85 local species), is the only zoological facility in San Bernardino County and the only US zoo located in an alpine environment.
Thank you for reading this post. You can now
Read Comments (2)
or
Leave A Trackback.
Read More
Related Reading: