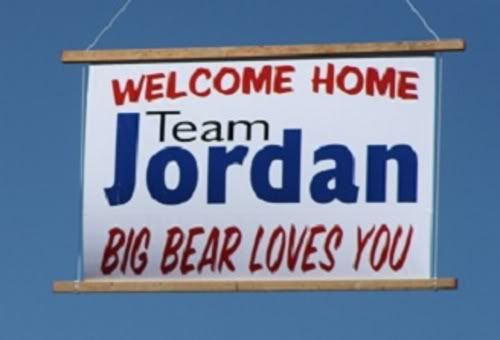 Above: Welcome Sign Team Jordan
The Big Bear Valley was full of visitors this weekend and the weather was a good deal better than it was down the hill.
Temps in Big Bear Lake registered 90 degrees but over at my place it was only in the 80s.
Team Jordan arrived to the valley on Saturday near Noon and was escorted by the Sheriff's Department in short parade over the dam.
As they crossed over, the local pirate ship, Time Bandit fired its cannon in celebration.
Many locals gathered at Nottingham's Restaurant for the welcome home reception.
Here is a great segment about Jordan Romero and his Everest Climb.
Another reason so many people were here in the valley was for the Fishin' for 50K tout tournament.
Fishing in Big Bear has gained popularity since it is known as one of the best trout angling spots in Southern California.
This weekend was the Second Annual Fishin's for $50K Trout Derby where one tagged fish could result in an award of $50,000.
Needless to say, it is motivated a lot of people to come up to fish!
There were also $1,000 or $500 tagged fish prizes that get divided evenly–still waiting to hear about the tournament results.
I enjoyed a great meal at the Himalayan Restuarant in between running errands with neighbor Carol.
It was an enjoyable interlude and the warm weather was a bit hot but a welcome change from snow!
Thank you for reading this post. You can now
Leave A Comment (0)
or
Leave A Trackback.
Read More
Related Reading: