To answer the burning question, "What does the sign with Mtn BVMs mean?"
GG has rooted around town, traipsed up and down stairs, and interrogated numbers of Fawnskin residents to unearth the answer.
Drum roll please!
The Fawnskin Post Office garden hosts the sign from Sister Annette Petty's Fawnskin home.
She was a nun in the Sisters of Charity of the Blessed Virgin Mary (BVM) and lived here on the mountain (Mtn).
Mission accomplished and aren't you happy I am so diligent in my investigative work?
One of the great things about living here in Fawnskin is that a score of volunteers plant, water, and maintain several garden spots around town.
These include the Post Office Garden, the Triangle, and Old Miller School House.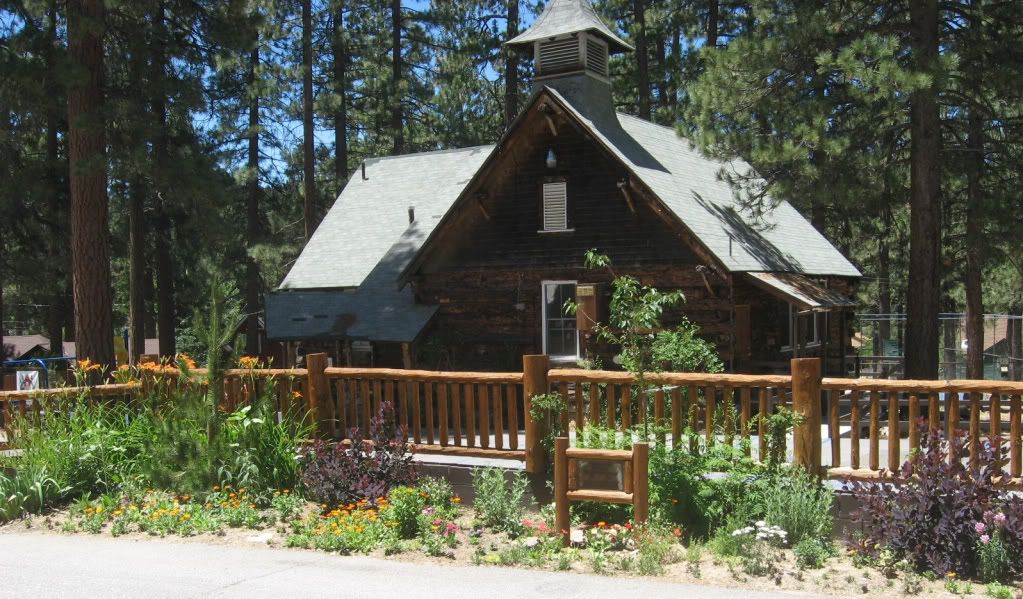 This week beautification seemed to be the theme around town and the North Shore Tavern got a fresh coat of paint and a new awning.
So town is looking great–including that infamous park that everyone was telling me they thought was open.
You know, the one that solicited funds for a community park and that has been closed to the public for four years now?
Ah-hem, I believe I said, "I highly doubt it" and sneezed, "bullsh**"
And now, I have photographic evidence:
In case you missed it…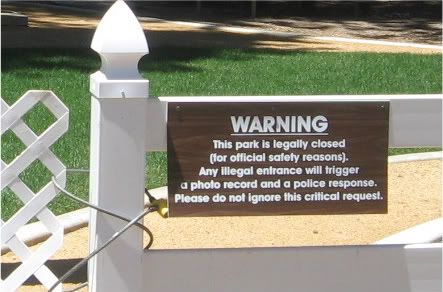 GG loves to say, "I told you so."
This time the gates have bike locks through a lattice so that the public (or locals) cannot thwart this latest attempt to keep people out.
In the meantime, those poor sheep are lonely.
Last week they were doing ring-around-the-rosie next around a tree.
They now have numerous battle wounds and are conferring with the chief again–probably for direction on how to behave now that the "police cruisers" will be dispatched to torment any trespassers.
In case you don't know, we don't have police around these parts–only a sheriffs department and a general untold rule of "settle your disputes with your shotgun."
And as for those cameras…everyone around here knows they are fake.
Which is why there are always people in the park. It is a nice park. It is a shady park. It has toys in it. It has a waterfall. It has cute sheep.
Anyway, as far as the photographic evidence…the park owner should have invested in those nifty fake cameras that look more authentic and actually rotate periodically or have a red light so they at least look activated.
Who says small town living is boring? We have all this exciting breaking news!
But the biggest news? Still no Doo Dah Parade this weekend and nobody took down the announcements on the websites or event site.
Bad, bad, bad!
Doo Dah Doo Doo
The Fawnskin Flyer has been getting regular traffic for people searching the term, "Doo Dah Parade Fawnskin."
In case you missed it, the Doo Dah Parade was dumped this year.
There is an event over at Pedersen's Mill but the locals are pissed.
So, it will be interesting to see just what actually happens in town this weekend.
Don't worry, despite the "shotgun" myth we all are pretty amiable folks.
Now some people are in denial. For instance, when down at the paddlefest I was informed that the Doo Dah was postponed.
I relied, "Uh No, it was cancelled."
Then the outsiders ('cuz they certainly did not live here) tried to tell me that the Fawnskin Goldrush & Steampunk Day event that is going to be held here would be just as good.
Have you lost your minds?
"Bullsh**"
I have to admit that I am confused because their website does not say "Fawnskin Goldrush & Steampunk Day" but that it is a Pirate Faire.
OMG what do I know? I only live here.
Okay, so back to the Doo Dah.
The Fawnskin Flyer got a comment from someone who said the Old Miners Days site was recently updated and that the Doo Dah Parade was still on!
No! It isn't! After 33 years–we are not having one in 2010.
People don't want to believe it–but it is true–cancelled.
Okay, okay, deep breath.
*sigh*
Have a good weekend–revolt if you want, show up in your Doo Dah finest and we can storm Fawn Park and have the Doo Dah anyway.
In case you missed that sarcasm–I'm kidding.
Don't do it 'cuz the police will be dispatched to take you into custody right away.
Thank you for reading this post. You can now
Read Comments (4)
or
Leave A Trackback.
Read More
Related Reading: