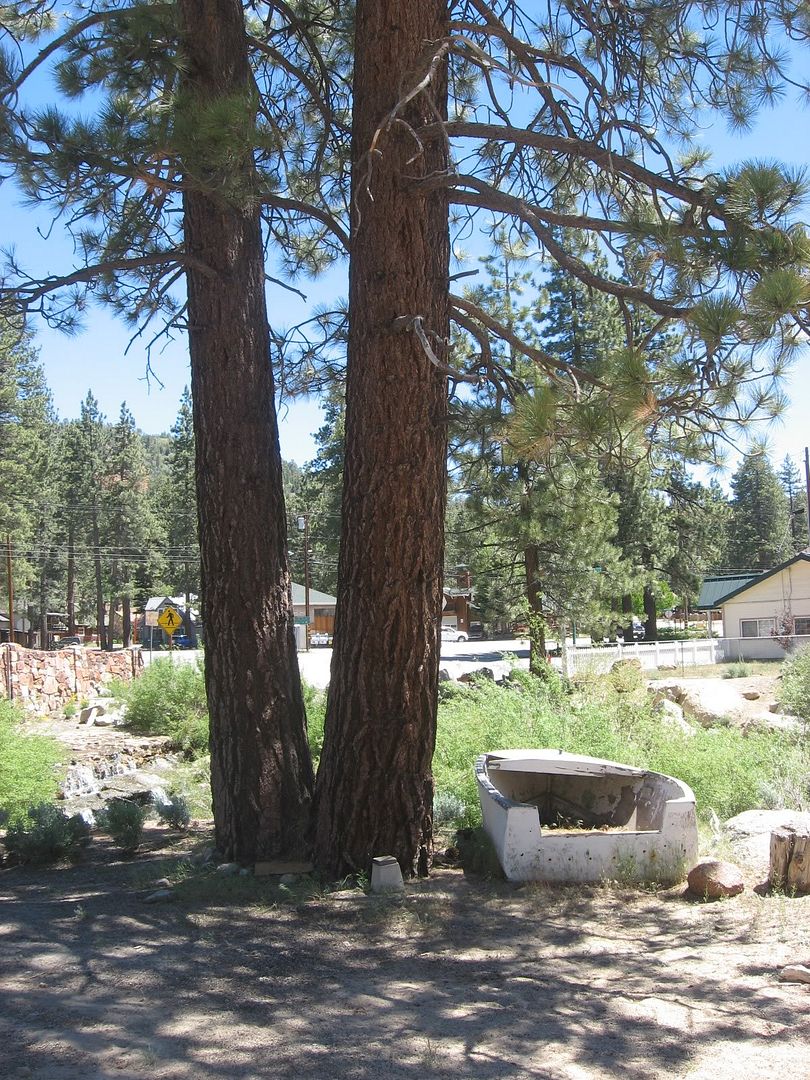 So it hasn't been so serene around these parts due to the massive onslaught of touristas who swarm the area for the 4th of July holiday.
Since my computer crash of last week, I've been sticking close to home and have been busy with reinstalling all my programs and other such non-sense.
However, I made the mistake of venturing out yesterday.
OMG
It was crazy even in Fawnskin!
Cars speeding through town, people loitering, parking lots crammed full of cars but the businesses were hopping so that is a great thing but I always cringe at holidays now.
Don't get me wrong, I did venture out because I attended the wedding blessing at the Buddhist Temple down the street on Saturday and ambled down a few back streets to say hello to a few neighbors who were also shaking their heads in disgust over the huge crowds.
Now, for anyone whose brain happens to work at high altitude (we know the tourist brains shut off due to the oxygen deprivation), I want you to ponder this.
The infrastructure doesn't support massive amounts of folks in these parts and for safety and health I really question the sanity of allowing such large numbers of folks into an area all at once.
Tourism is a big commodity here but I've been hearing complaints over how the place has been marketed and the demographic that is actually showing up.
So the tangent of the day is about development…in this area because it seems to be fueled by the fact that we have more than our share of real estate agents, construction businesses, and other supply business and contractors that support that industry.
Don't you think it is odd that,
1. Locals are asked to refrain from watering during holiday weekends and an influx of visitors?
2. That building of trophy homes continue even though most of them sit empty all year and a ton of places currently sit empty?
3. We are asked to conserve and cut back during an influx of people but doesn't it seem odd that there seems to be no discussion about the strain on resources if every home owner who has a place in the area takes full-time residence?
Just sayin' — if this area cannot function well during this type of holiday (grid locks, shortage of water, empty grocery shelves, etc.,) what makes anyone think that more development is a great thing?
In fact, I believe the most valuable resources in the area (outside of the natural environment) are the historical elements, the quaint charm, and the peaceful refuge provided by this mountain resort.
Fawnskin happens to be one of the last areas up here where the charm that first attracted people to the Big Bear Valley has not been destroyed.
Think about it, I saw El Pollo Loco with flags up near the boulevard and thought of the old Rusty Pollo that is now out of business along with a lot of other small business due to the homogenization of the South Shore.
Sure, there are some preservationists around but the most endangered resources here include public access to the lake, clear unobstructed views of the natural environment, and the unique flavor provided by non-big box and non-franchise businesses.
I gotta tell you, most of my pals head over to Idyllwild or Julian and not Big Bear because they prefer the small town feel and individuality instead of franchises and a homogenized place similar to what they can find elsewhere.
Remember that poll I posted? I am not the only one that feels this way:
This is not too different from the Fawnskin Development results posted at the Grizzly.
Ponder this for a while and chime in below…be sure to also check out Preservation Nation.
Thank you for reading this post. You can now
Read Comments (2)
or
Leave A Trackback.
Read More
Related Reading: