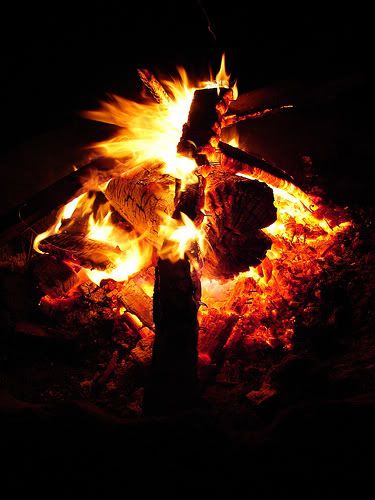 So, Snoop Sister Deb and I managed to make it up to Hanna Flat this weekend for some frivolity–and truth be told, it was one of the latest nights I've had in Fawnskin and one of the most jovial.
We've taken the names, Lucy and Ethel as a result.
To say that the night was silly is an understatement.
BIG adventures navigating through the campground in attempts to find our friends.
Snoop Sister Deb had some pals here from Phoenix, Orange County and Pasadena.
My pals were visiting from Valley Center along with their friends from various parts of Arizona.
Our act began to warm up when we were greeted by DomiNick–who didn't quite know how to deal with our finely tuned local humor and harassment techniques.
However, he soon joined in the fun and when he spied us as he strolled by one of the many campsites we were frequenting–he broke out into a run to escape!
Hmm, the Fawnskin Flyer strikes fear within the forest–sounds like a good headline to me.
Anyway, we had a nice time visiting but the adventures really escalated when some campsite folks were blaring their radio and disturbing the peace in our pristine woods.
What ever happened to common courtesy and why in the heck would you come to the woods and then blare a radio?
Isn't the whole idea to come up and connect with nature and to get away from it all?
Well, what happened next is a sequence of events that will go down in history.
Have you ever seen Snoop Sister Deb on a mission?
She instantly grew taller by five feet, her voice deepened and her muscles inflated so that they burst through the seams of her shirt–she was getting ready to go postal!
Grabbing Shadow, she tromped down towards the campsite…with GG slinky slowly behind–gasping to catch my breath in the wake of her trail dust.
Suddenly she burst onto the scene and said, "Will you please turn down your radio? We have kids trying to sleep."
The three big burly gangster types replied, "We know the rules, it isn't 10pm yet!"
To which she replied, "Thanks so much for turning the radio down so our poor little children can sleep."
They growled back…
She said, "Do you want me to get the ranger?"
They said, "Go ahead, we know the rules."
To which she replied, "Thanks so much for turning your radio down so our kids can sleep."
She turned to leave–and the suckers turned the radio down.
Mission accomplished!
Never mind that neither she nor I have any kids. (Does it count that her friends had one little tyke so it wasn't too much of a fib?)
But, as everyone around these parts knows, you don't let the truth get in the way of a good story–or in this case, a good bluff tactic.
Soon, we were trudging off to try and find my pals–whose campsite, up until this point, was empty each time I had tried. But this time I heard a reply and someone I didn't know said, "What are you doing here GG?"
Hmm, my reputation seems to proceed me.
Now earlier in the evening we had made several tours through the Hanna Flat campground because it is a one way loop that spits into two wings so you can circumnavigate the place.
We found it amusing that none of us knew where we were going since we did not have the campsite numbers.
This was complicated by the fact that both Deb and I have not been up that way since the big fire.
So there we were–going around in circles again and again and again.
We figured that we should at least try and make even amounts of passes through each loop to be fair and get a little balance to our lives.
Plus, it was amusing to see what each and every campsite group was doing.
Now that we were on foot,  our early navigation helped us to make it to our destination without a problem and we were soon amidst a jovial group of campers whose laughter was only a little louder than ours.
Eventually it was time to go, but after bragging about knowing how to navigate well and having a good sense of direction, I found that we had taken the wrong loop.
*sigh*
My reputation as a savvy mountain woman plummeted. Eventually we landed back at the original campsite unscathed with only a minor detour.
Finally, we set off to find the vehicle which was parked down the road somewhere…and found that our previous adventures could serve us well.
The back story is that Snoop Sister Deb's pals had left about ten minutes before we did. So when I discovered their car still parked next to ours and empty–well, what could we do?
We dubbed ourselves the unofficial search party and set off to find them.
Needless to say, after all our loops and detours–this was a funny proposition to both of us.
However, when we did find them, it was way up the road and they felt hopelessly lost.
It was nice to receive the official search party welcome–complete with gasps of relief from the hikers.
In the end, we all made it safely out of the woods and back onto the road leading to town–and we bravely took the lead so our flatland friends would not get lost.
Trusting souls those two…
Now if you want to know the untold side of the story, Shadow had the best time of everyone since everyone made a fuss over her, told her how sweet she was, how pretty she was–and if her celebrity status wasn't big enough before, it is almost unbearable now.
There were a lot of dogs at the campground and she wanted to meet and greet them all.
Alas, it was not to be so.
However, the whole night was so exciting to her that she was truly tuckered out and had to nap on the way home.
Who could have known that our short trip to Hanna Flat would end up being the highlight of the week with loads of friends, new acquaintances and campfire smoke infused clothing?
The mosquitoes were scarce, the s'mores gooey, and the laughter loud and hearty.
I'd say that a good time was had by all and, upon reflection, I think Snoop Sister Deb has found her calling as a campground bouncer and that I'd do best with a GPS.
NSIA Potluck
Now for those of you who missed the Hanna Flat adventure, just a reminder that the NSIA Pot Luck is tonight at Captain John's Marina aka Fawn Harbor.
The potluck starts at 6:00 pm but early arrivals have time to visit with neighbors and friends. The speaker will be Scott Huele, (General Manager of the Municipal Water District) who will discuss lake issues.
Image Credit: Matt Reinbold
Thank you for reading this post. You can now
Read Comments (10)
or
Leave A Trackback.
Read More
Related Reading: