Above: Some of the crowd at the party thrown by Igor & Sherry
This weekend was busy for a lot of people but Fawnskin was full of parties, people and a puppy swarm.
I got to see a couple of my pals who came up to Big Bear for a short spell but found myself mostly worked on a couple of writing projects.
One of the big events this weekend was the private party held on Saturday by Igor and Sherry up on Cedar Dell.
If you live in Fawnskin you probably heard the music reverberating across town.
Damn Good Question played and just about everyone in town was invited.
I missed the event last year and promised the two I would show up–and show up we did.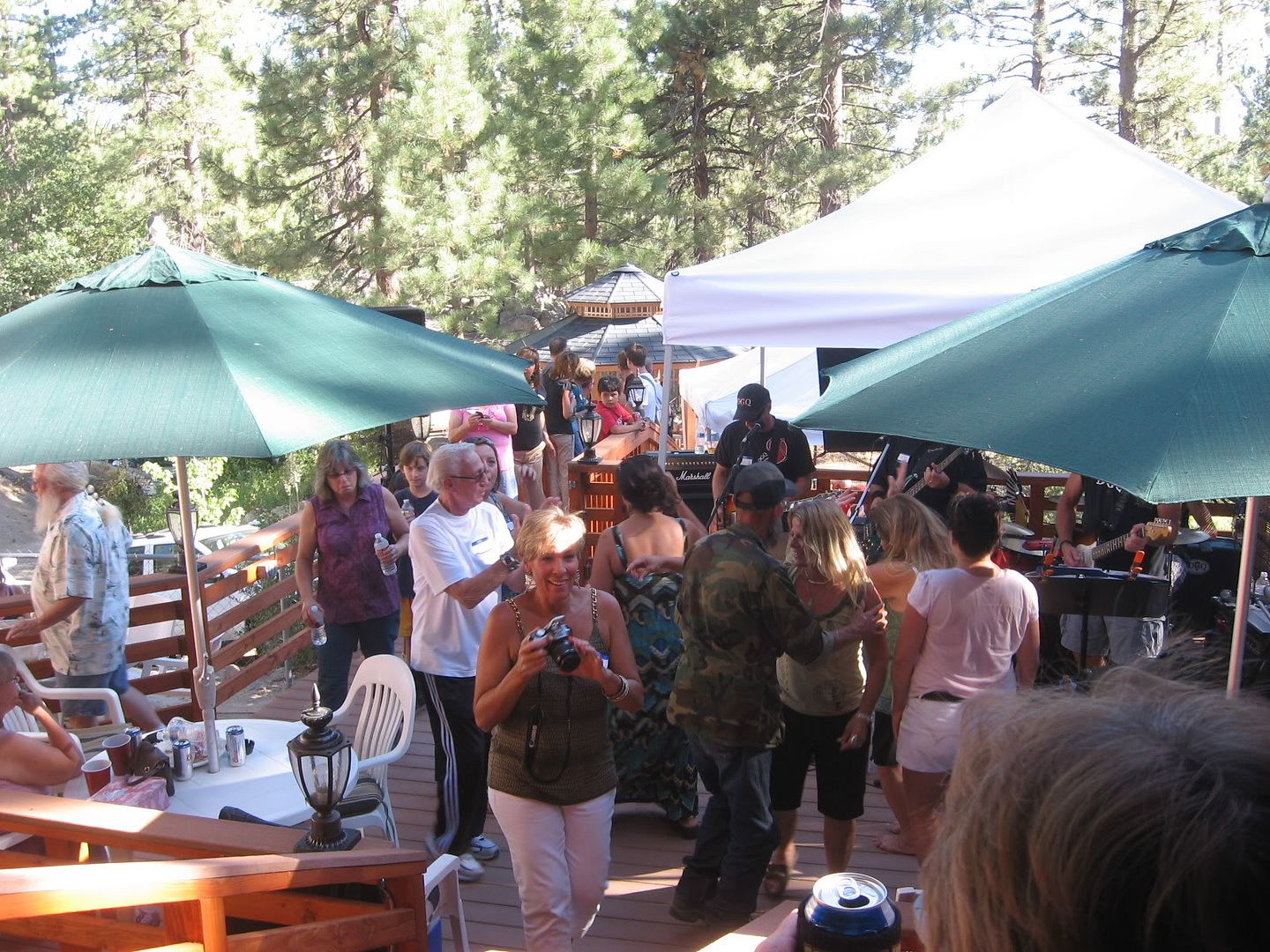 Above: Some of the crowd at the party.
Now if you are not familiar with Fawnskin, we are a bunch of party animals.
At any time you can see neighbors getting together for a breakfast, lunch or dinner at a private home or at the local restaurants.
But when there is a live gathering, well–it usually is packed.
My theory is that since most everything is in walking distance, folks figure they should take advantage of the fact!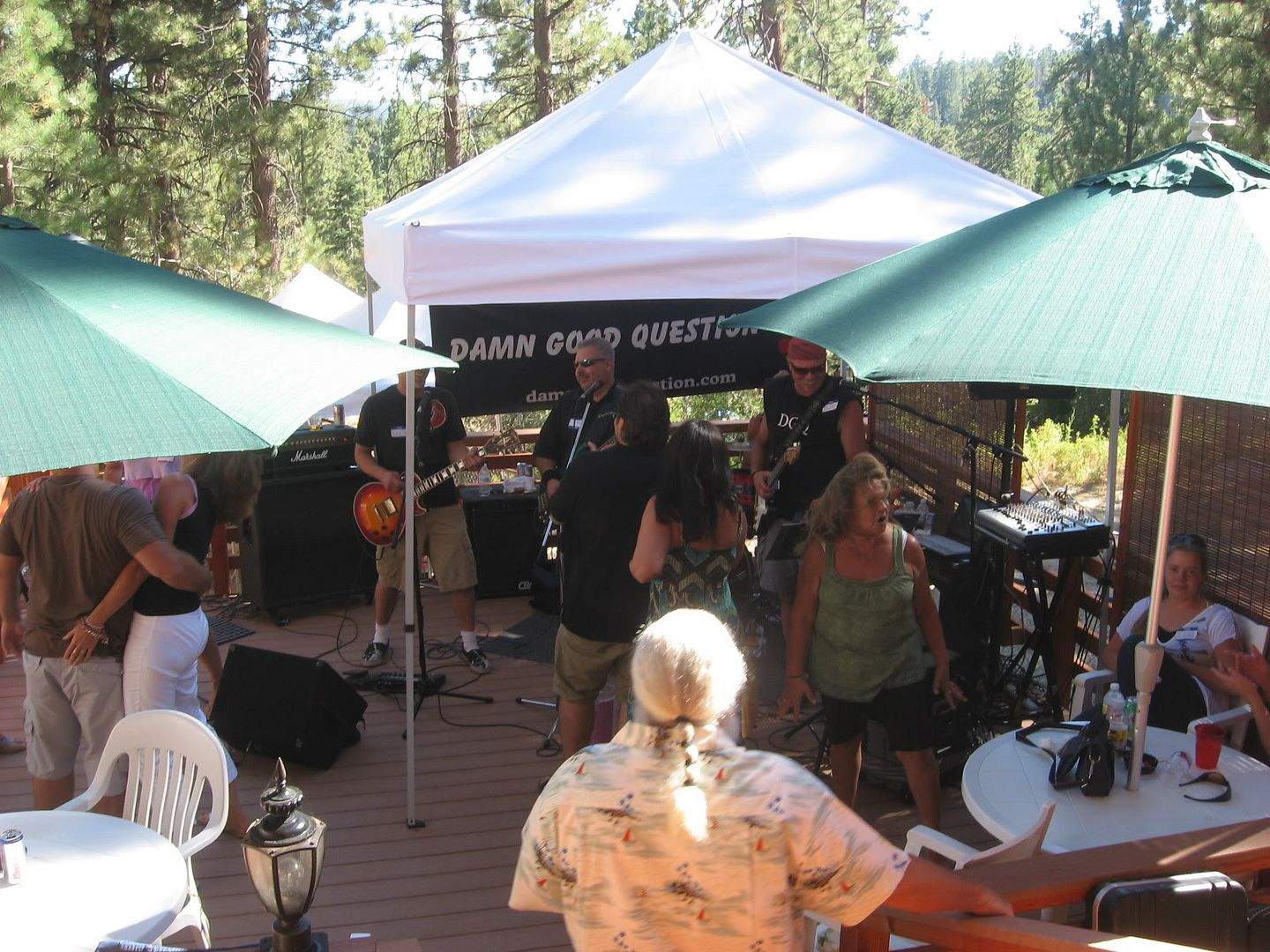 Above: Damn Good Question in the middle of things.
In true Fawnskin fashion, there was a lot of dancing and carrying on.
However, I have to report on the canine action at the place.
Toby (their black dog) was well behaved but their newly adopted Cup Cake (beige dog) made the rounds grabbing food off of the plates of unsuspecting visitors.
She may need some schooling!
Now speaking of dogs, prior to the party I got to go see the puppies over at the house of Bob & Nancy Vargas. (They have a couple puppies not sold if you are seeking a youngster.)
I first got to see them when they were just beginning to make their way around.
Since they could not climb, they were securely housed in a empty kiddie pool which kept them safe and was easy to clean.
But now, at seven weeks of age, it is hard to confine them!
The puppy swarm moves as a mass but periodically breaks into segments of prowling puppies that play attack from different angles.
Snoop Sister Deb carted over her entourage  so they could meet the puppies. The group included her grand kids.
Kids that the puppies saw immediately as their siblings.
Above: Part of the puppy swarm thinking, "Hooray, a new playmate just our size!"
All went well.
In fact, the two kids ended up going home with a puppy after all.
Now, when it comes to Snoop Sister Deb–she must have hit the Lotto because she had TWO brand new cars in the driveway this weekend.
She told me if she did ever win the Lotto, she would share with all her friends in town.
So maybe she really didn't win the Lotto–but we do want to know her secrets.
You'll be relieved to know that after some investigative work, I am happy to report that although she has a new car (the other was her daughter's vehicle) she did not toss her Chickadee tire cover away.
In fact, I heard she was wrestling with the sales manager in a tug-o-war over the thing since they thought it would attract more buyers if they kept it.
Fawnskin Folks were so worried about that Chickadee tire cover that I thought I should mention it.
We have our breaking news priorities around these parts!
The big burning question that remains is whether or not it will take its place over the new fancy tire cover or not.
The local vote is–please do so–otherwise it makes it hard to spy on you.
Although the color of her new chariot is so unusual it might not be too hard to spot the brown car but we want to be accurate in our snooping.
Rumor is Just a Rumor
Okay, so in the midst of all this action packed information I do have to mention the new rumor spreading about the Fawnskin Flyer.
LOL
Someone told a former advertiser that I am not writing the flyer any more and he was concerned since he advertised all winter and did well, so he asked me about it.
That is news to me since I am still at it!
The truth is, as I mentioned before, that I need the community and readers to step up to the plate to support it.
I've covered the groups in town, events, and even promoted the businesses around these parts for five years without any pay.
When I've been too ill to do hardly anything, I kept it going.
When I have not been able to pay my bills, I kept it going.
Since it started as a joke, I figured it was more like my community service project.
Truth is, it takes a lot of time to do and I need some help.
People rant and rave about how they love it but truth be told, few support it financially even though I have the tip jar in the sidebar and advertising options.
Word of mouth is good and people love it.
Driving traffic here is good too but sadly, those things don't pay the bills.
I really love my advertisers and those who do step up and I sincerely appreciate and thank those of you who took the time to drop some funds in the bucket.
Candy Hallstead has supported the flyer for a long while AND also gets a lot of business from her ad. It is so targeted that she gets people calling or going to her website all the time.
Now when I ponder all the other the businesses that I have promoted, I am sad to report that most have never even bought me a cup of coffee.
The truth is, that when I hear their ads on the radio or see them in the local paper, it doesn't sit too well when I get them very targeted traffic and attention.
Anyway, as I said a few weeks back. I am taking the Fawnskin Flyer into a new direction and you'll see some changes coming up soon.
You might have noticed the new topics in the sidebar.
I also cut back to writing three days a week.
The next change will be some new features with a focus on some particular topics.
I've been searching for some helpers to tackle gardening, fishing, and hiking or camping.
If you, or someone you know is interested, leave me a comment below.
The more support I get, the more you'll see–sound fair?
Now I want to know what you think about this and ask that you vote in the poll below to share your opinion.
Thank you for reading this post. You can now
Read Comments (4)
or
Leave A Trackback.
Read More
Related Reading: