Autumn is showing signs of arriving here in Fawnskin even in the midst of a heat wave which is impacting southern California.
The worst part is that a large number of people were without power in the sweltering heat.
This probably explains why the valley was full of visitors enjoying the cooler weather last weekend.
In some parts of Fawnskin the foliage is changing color but my trees only have a couple of leaves that just began to turn today.
The outdoor thermometer showed a balmy 74 degrees at 7:00pm on Monday night and several degrees cooler at the same time on Tuesday night.
Since we had some cloud cover cutting the heat yesterday, I meandered down to Amangela's to clear up the nasty rumor spreading about them closing.
The Fawnskin Flyer was started to "investigate" such rumors and reveal the real story.
So GG had a mission.
Now anyone who lives around these parts knows that not all the agencies around these parts are business friendly.
The building across from the Post Office has housed a variety of food places and is known for its need for deferred maintenance and as a result has developed a revolving door reputation.
Let me go on a tangent for a minute or two…
Here in the valley many of the business operators end up investing in the physical property because many property owners neglect the upkeep on the buildings–so this situation is not unique.
A big problem is that commercial building owners also appear to be delusional over the amount of rent they can collect.
Even busier business centers down the hill charge less than many property owners want up here!
I know that a few businesses have closed up and moved away because of that and suspect that is why a lot of commercial spots remain empty.
So, it is tough if a business owner does not owner the property where the business is housed.
Back to Amangelas…
Anyway, the girls have been serving up some great food and beverages for over three years now but the business is not immune to challenges because the building needs work and upgrades.
Not too long ago a new health inspector was assigned to the Big Bear Valley and he is being a task master. Part of his requests at Amangela's involve upgrades to the physical structure.
So, at the moment they are not sure how they are going to meet those requests since the physical building does not belong to them.
Now, the truth of the matter is that they don't want to move the business to another location–but it will depend on what actually transpires as they continue to dialog with the property owner and ponder their options.
At the moment they do not know what they will be doing.
However, Angela told me that they will inform everyone of any decisions or changes as soon as they know.
In the meantime, they will be going back to fall and winter hours on October 1, 2010 (8am-4pm daily, closed Thursdays) and taking their annual vacation from October 11-17, 2010 (when the business will be closed).
As most of you know, Amangela's is my favorite place and a great asset to Fawnskin–so we are all hoping for the best.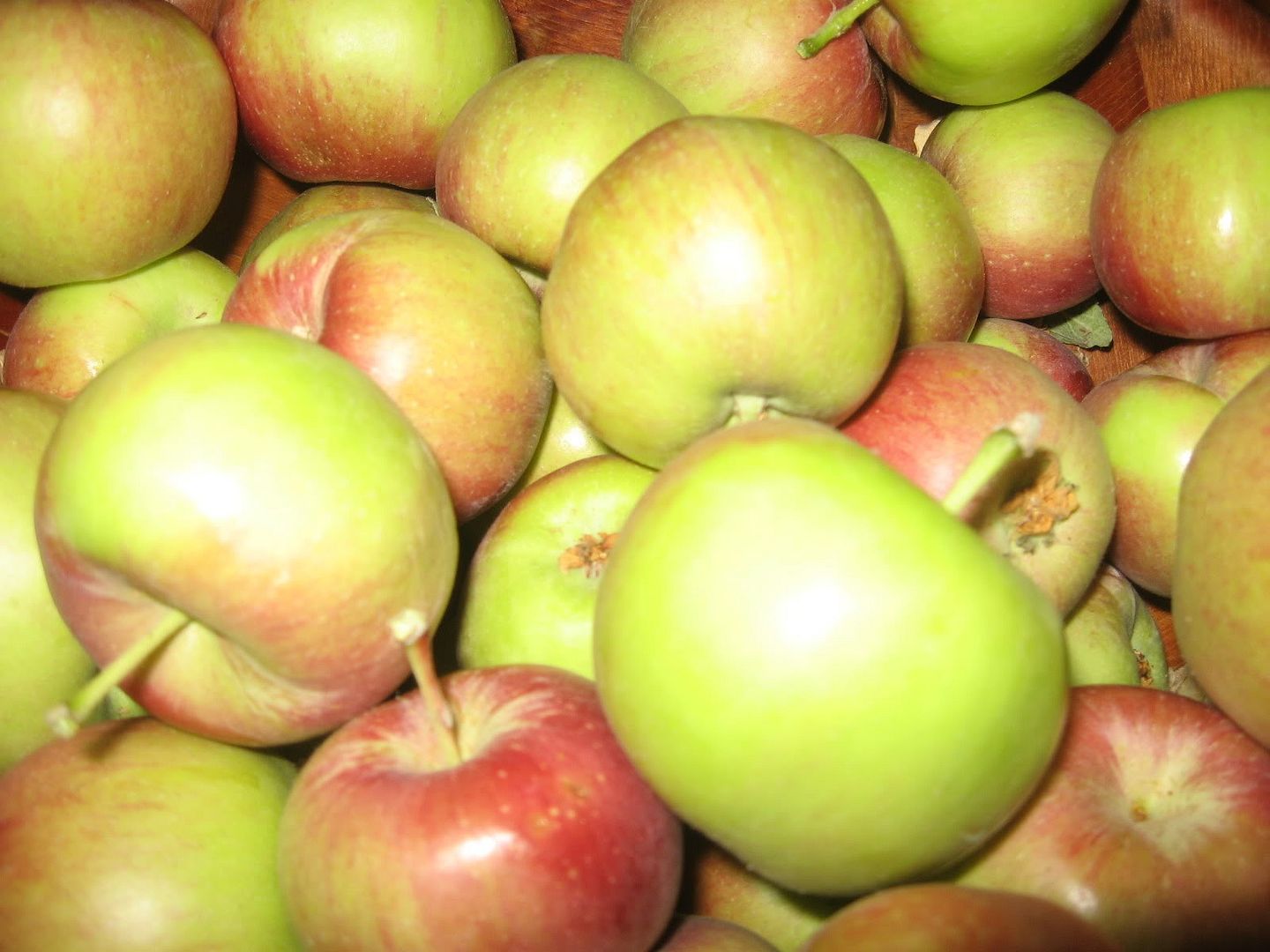 Now in my garden the pear and apple trees are yielding some great fruit and I harvested a few apples since the birds are having a great time sampling them all and I figured I better get some before they all dry up from the gashes.
Each fall I get to enjoy this annual harvest and just a couple of weeks ago I was fortunate to collect a different type of apple from a friend's tree in the east end of the valley.
I am juicing these babies because they are so small.
This time of year is one of my favorites because the temperatures usually drop and the bugs disappear.
People begin canning and harvesting fall fruit so everyone shares their bounty.
Last week many of the neighbors got to enjoy some fresh oranges delivered by Jerry and Randy.
I've been juicing a few and can say that they are super sweet.
And fall also means that it is time for baking but I'll need some bigger apples!
BTW GG's apple pie recipe is here.
Thank you for reading this post. You can now
Leave A Comment (0)
or
Leave A Trackback.
Read More
Related Reading: