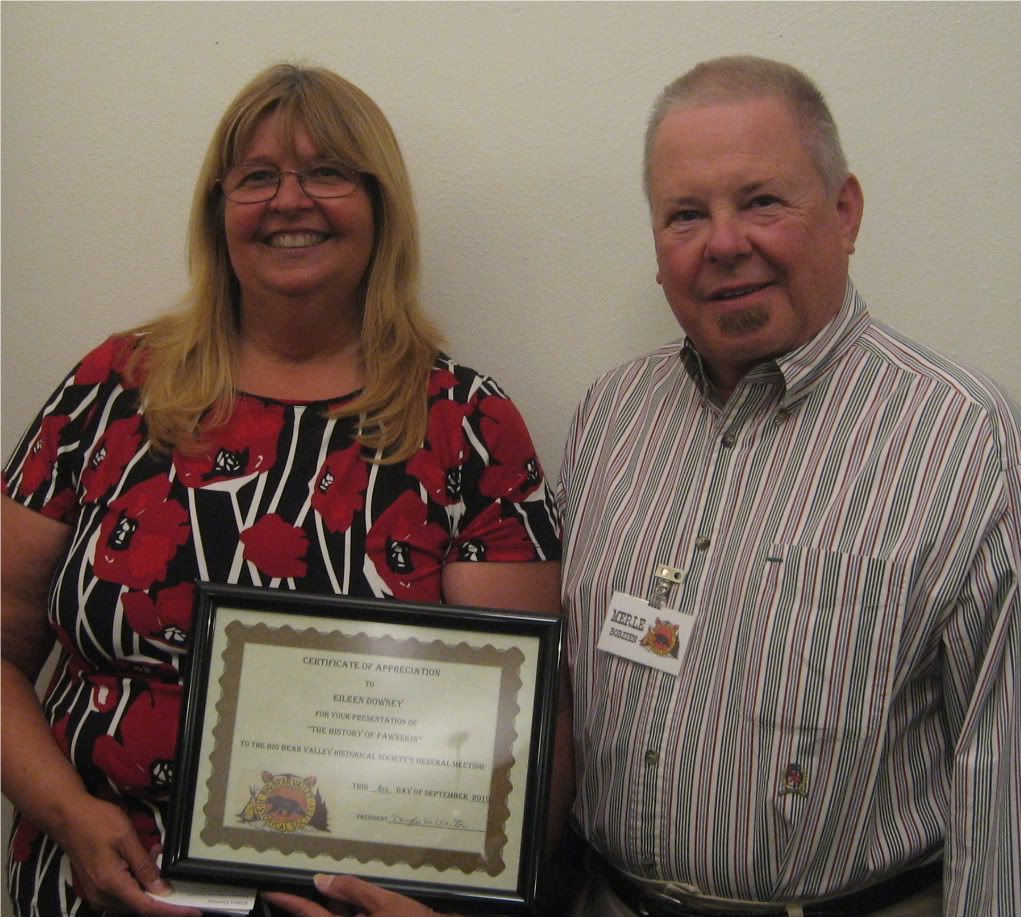 Above: Eileen Downey (with Meryl the new curator of the BBHS Museum) gets a nice cert of appreciation from the Big Bear Historical Society.
Never a dull moment around these parts–and you thought I was going to write about camping.
Just can't do it, instead you get all the exciting news.
The problem is, where to start?
So, let's start with the picture.
MY neighbor Eileen Downey drove up from down-the-hill (Yes, yes, she is a weekender cuz she works for a living!) to do a presentation of Fawnskin Secrets for the Big Bear Historical Society.
Snoop Sister Deb had to drag me kicking and screaming from the house to go to the event but it was a good thing she did because someone has to document the events around these parts.
Since I have not been out in public a lot, it caused a stir–well, sort of a stir.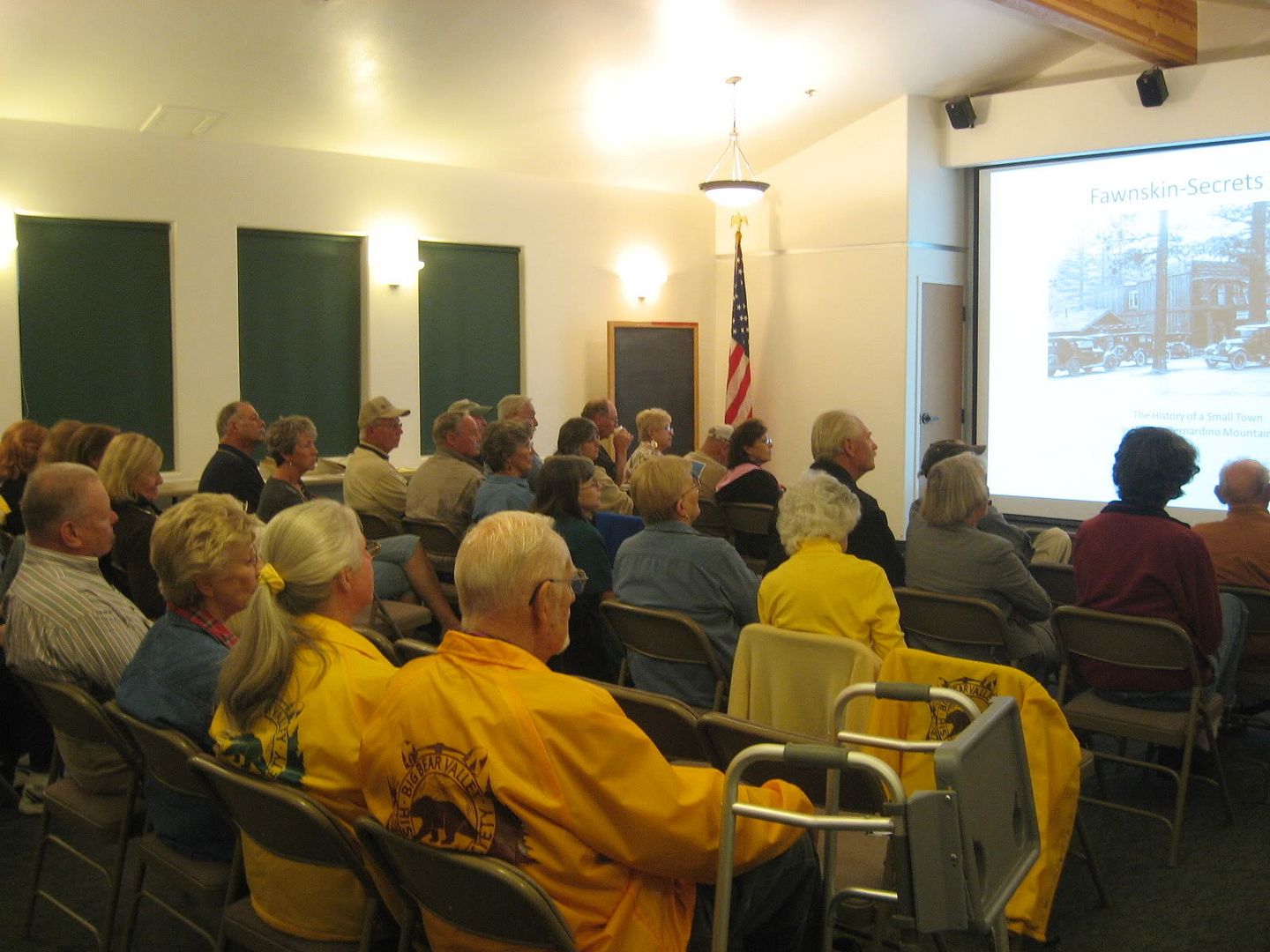 But I had a good time catching up with Eileen while business was discussed…
You might have thought I scared her off but she says no. She will be contributing again but has just been busy.
If you are new to the Fawnskin Flyer you need to click on the link to the right that says, "Fawnskin History" and scroll through some of the articles  written about the history of Fawnskin.
A lot of her presentation was already covered here with a few more tidbits of interest.
Fawnskin has always been a unique spot with a flair for the arts and a zest for living.
Seems that it started out with this interesting "tea" served up here during prohibition.
Also, we have a lot of connections to a lot of famous people and places–but you'll have to wait for the book for that to be revealed.
I got a little cranky when someone said, "Where are all the Fawnskin Folks? They should be here."
Uhh, most of the crew has already seen the movie she showed (Remember that Town Hall Meeting?) and besides, we can always go knock on her door to get a private screening.
But how are people supposed to know about it? By magic?
I don't get Channel 6 and I guess that was the only place it was mentioned other than here on the FF.
It wasn't on the Discovery Center site nor was it on the Events in Big Bear calendar.
So, get over it–if you are only marketing to your established audience, people are NOT going to know about it.
I personally thought it was a rude statement but we all know the truth, people are jealous of us Fawnskin Folks!
And, I just have to mention that Ron Seymour wasn't there, neither was anyone from the Grizzly or KBHR–but GG was there and they are getting a plug as result so they should watch the remarks!
Which brings me to this Public Service Announcement on behalf of the Big Bear Historical Society.
Meryl is now the official curator–how is that for fancy pants stuff?
Good to know things are moving along.
But the group needs some more volunteers–so if you are interested, they are a good group to join plus it is interesting stuff.
BTW they will be holding a tour of some of the great historic cabins we have here in town on the 25th of September so mark your calendars.
Good job Eileen–now just get me some more stuff for the Flyer!
Beefy Boys Come to Fawnskin
So were you wondering about the law enforcement vehicles that came zooming into town?
I happened to be strolling along and dropped into Amangela's since I've not been out much since the whole sister-in-the-hospital thing.
Suddenly, one sheriff appeared…and then another…along with a citizen patrol guy.
It seems that the key on the telephone stuck while Angela was dialing out and she accidentally hit 9-1-1.
Now this is not as uncommon as you think.
Over on the other side of the lake, both Charter Communications and Lagonita Lodge happen to have those dial out services in place.
You know, dial "9" to get an outside line?
The problem is, if you are dialing a foreign country code of 11–or a number that includes a couple of ones–it often gets 9-1-1.
Kids happen to dial it occasionally and if you have a dead line with a phone attached–dialing 9-1-1 will get through.
How is that for hot action?
Anyway, two nice looking beefy boys (aka officers of the law) showed up to make sure that nobody was holding Angela hostage and making her say that everything was alright.
They guys decided that they would buy some coffee but Angela would not have any of it and served them up some fresh, hot java on the spot.
I told her, "You SO are making the Flyer" so be sure to tell her she did when you next see her!
BTW I had the fortune of visiting with one of the beefy boys as he caught up on paperwork and interviewed him for this breaking news piece.
He said that the best thing to do if you accidentally dial 9-1-1 is to stay on the line and explain the situation.
They will dispatch officers to make sure everything is okay.
To help alleviate the problem if you are dialing out somewhere, pause between hitting the number keys of the phone, that seems to help avoid some of the accidental calls.
See, aren't you glad I am around to cover such important details? Nobody else will so I gotta!
Flipped Out
Now I know better than to not lug my camera around with me but sometimes I screw up.
Such was the case on Wednesday when a trucker flipped his cement truck just past the Moon Camp area.
Lots of vehicles speed around here despite the speed limits of 35mph before you approach town and the 25mph through town.
I was loving when the CHP was using their new funding to pop a lot of those speed demons–but alas my glee was diminished when they moved on to other locations.
The truck flipped over on its side and our trusty Fire Station 96 was on the scene chatting with the operator while they waited for assistance.
Special tow trucks have to be dispatched to deal with such things.
The pitch on that particular curve is such that it is easy to slide when the road has water or ice, even at slower speeds but I bet the guy was traveling over the speed limit–at least he didn't block the roadway as it flipped onto the shoulder.
How nice of him to be so considerate!
Okay, have a good weekend–and I will get to that camping piece soon.
Thank you for reading this post. You can now
Read Comments (2)
or
Leave A Trackback.
Read More
Related Reading: