This last weekend (and this week) I've been more social than normal. Part of it is to help deal with the emotional stress of family health issues.
I've also been getting out to hike which has been tough–and even my hiking partner Shadow went on strike by refusing to hike with me one day last week.
In all the years I've known her, this is the first time she has declined–so I know even she has been getting tired. I've been trying to hike an hour several days a week–still slow going but I continue to chug along and felt like a caboose the other day when I headed out with Andy and Rita.
They were understanding and supportive but it sure is frustrating because my brain remembers when such tasks were easier and for some reason I figure I should be up to full steam since I've been doing pretty good over the past few months.
*sigh*
One of the highlights of the weekend was the house warming party for Laura Janes the artist.
You might remember the article I posted about this mountain lake resort artist and her work some time back.
Laura lived up near Jenks Lake but now has relocated to Big Bear City. I was happy to arrive early and catch up while she fussed in the kitchen and I helped with related tasks.
She has moved into the perfect space that has both a studio and office in the midst of a lovely living space she has created.
But the big fun was also not only seeing her and celebrating the fact that I might get to see her more now, but also reconnecting with many of the other artists I used to see regularly when Serenity Place Gallery was still operating.
Louis Weiner , Cindy Jones (former Fawnskin Folk) and Paul McMillan were some of the people who attended the event.
Cindy and Louis now live down in Redlands and are still active within their artistic pursuits.
To say that I was tired afterwards was an understatement. Becoming social again is just like hiking–I have to build my stamina back up!
It was a delightful gathering with a variety of people and delicious contributions by everyone.
Over here in Fawnskin, the Arizona Pipeline Crew said the asphalt crew might be delayed but it looked like they were well on their way to finishing up yesterday afternoon.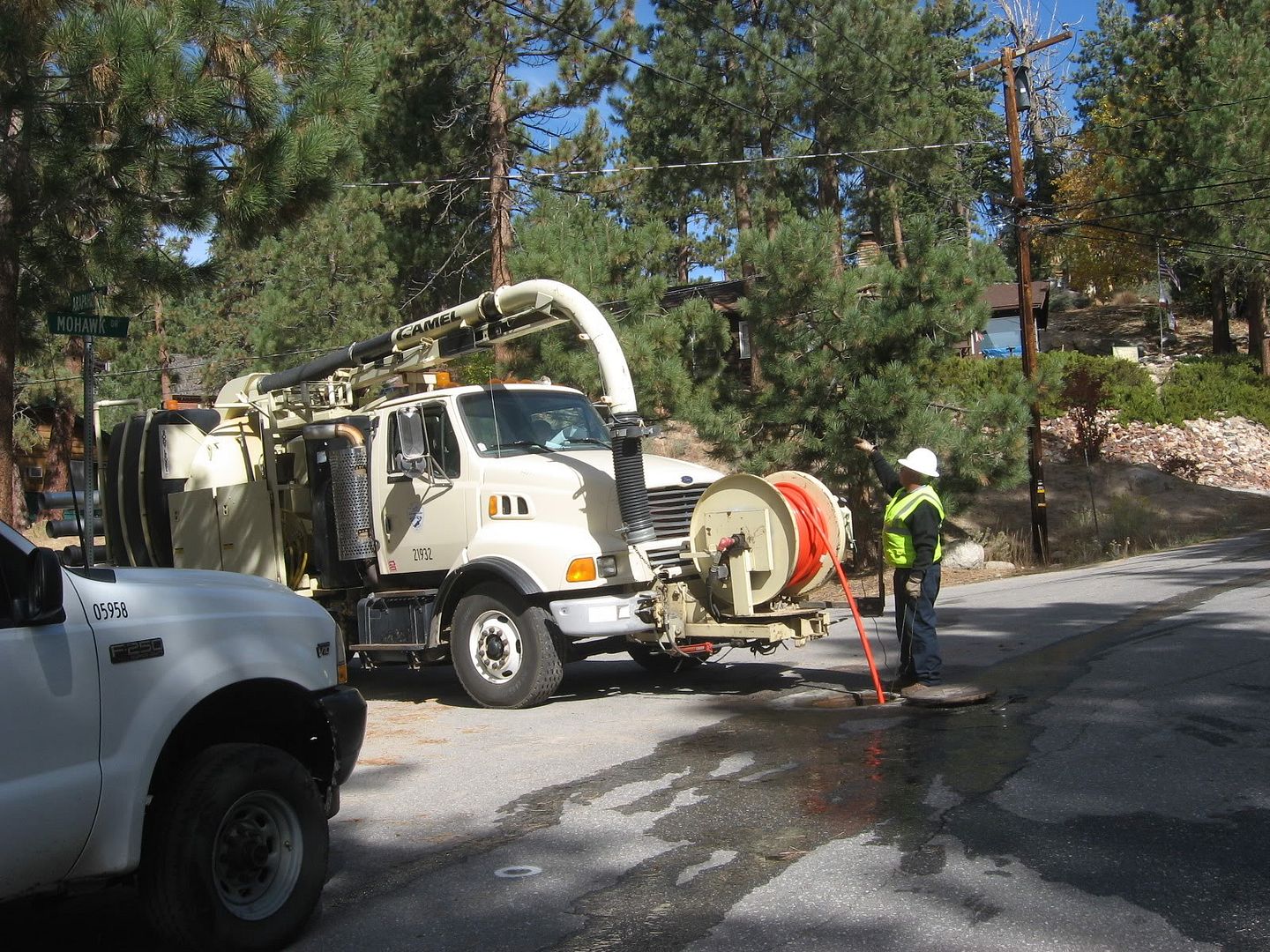 In case you were wondering, I forgot to mention just what has been going on around town related to the big camel seen here and there.
Crews have been checking the sewer lines and clearing them out prior to winter.
When I last spoke to the crew leader last week, three lines do have to be repaired before winter but others that are not critical will get repairs in 2011.
Finally, I actually went down the hill yesterday and was enjoying a bit of the heat and so was surprised to find my thermometer reading 80 degrees F when I got home.
Eesh, snow and then heat all in one week!
No wonder all the plants are going crazy!
I have some trees turning while the others are still in summer foliage.
Then in the garden, I have new roses and tiny purple flowers that just bloomed.
Go figure.
So of course everyone is speculating just what is going to happen this winter–like anyone knows for sure…
Thank you for reading this post. You can now
Leave A Comment (0)
or
Leave A Trackback.
Read More
Related Reading: