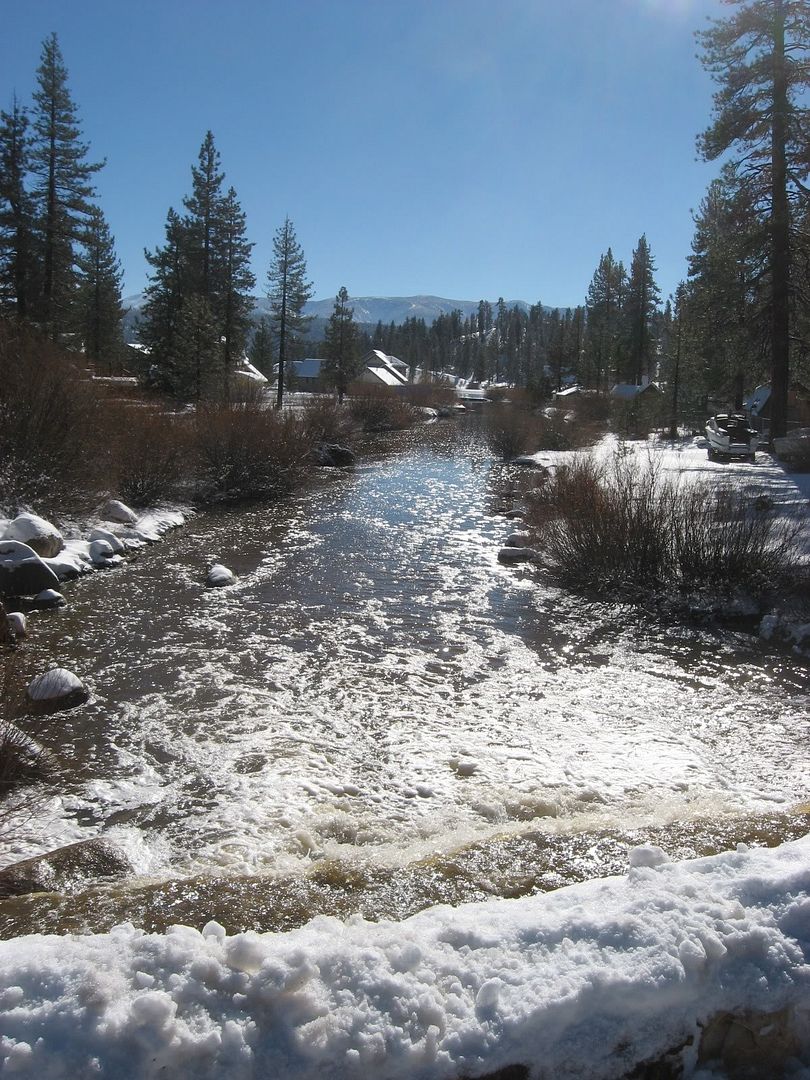 Above: Our Mountain Lake Resort creek filled up during the rain storm(s) and most locals get out between storms to enjoy the day!
Do you ever have times where you wanted to just hide under the covers? The last few months have been that way for me.
I enjoy living here but life in a mountain lake resort can be a bit tough now and again. The holidays tend to be hard on some of us and this one was no exception.
Those of you who know me well understand that I try to keep a good game face, but sometimes I just can't, and since the recovery process has been hard on my system, well, those covers are mighty tempting.
It reminds me of a house cat I knew that used to hide under the bed spread, it doesn't really do any good but somehow it feels like it might help shield you.
Now I know a lot of people swear by sleeping pills or anti-depressants–and now I think I get why!
Speaking of respite, I managed to get out for a short amble on Saturday despite the ice spots here and there. It was good to see a few neighbors and enjoy a nice New Year's Day.
The storms turned from warm and wet (Well, it is all relative isn't it?) to c-c-c-old with wet snow.
Then Sunday we had the pleasure of getting some white fluffy stuff which is supposed to keep dumping through Tuesday.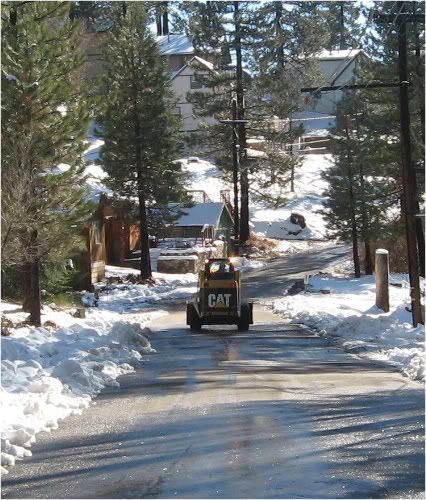 Above: Bobcat Bob buzzes down the road and is busy keeping Fawnskin berm free (he advertises to the right ==>>)
I enjoy weather but since my body temperature has not come back up to normal yet, so the temperatures seem a bit lower than normal.
Never mind that I took a walk during the coldest day with who-knows-what-type-of-wind-chill. I have to confess that GG wasn't too smart about walking down by the lake and creek, it seems that I can be a bit thick about such things.
However, I did walk back through town and the homes on the other side of Fawnskin and it was quite a bit warmer. Perhaps there is something good about being a fast learner.
Pie Day down at the Post Office (December 23rd) was pretty well attended and a lot of great fresh baked items filled the table set up for the festivities.
Above: Andy, Sarah, Sandy & Rita munch a bunch at Pie Day!
There was mincemeat pie, pumpkin pie, sweet potato pie, and a whole lot more. Now two rebel contributors were Cheryl and Nate.
I just LOVE to look at Cheryl's cookies every year. They are so beautiful and she spends a lot of time making them.
As for Nate, well he is pretty new to the community but he is helping out and actually made some yummy-lious and creatively decorated gingerbread creations.
Above: Cheryl's Creations & Below: Nate's Creations
So now why did evil GG have to post pictures of holiday goodies for you to drool over? It's cuz I know half the town has a New Year's resolution with a diet change and weight loss for 2011.
Heh, heh, heh.
Now I haven't quite decided what changes I am going to be doing here on the Fawnskin Flyer but when I figure it out, I'll let you know. I've been fixing some of the things my host says were broken. That took days and days of coding and troubleshooting but I hope we got most of it sorted.
I don't really want to do fundraising but I do need a few patrons, sponsors or miracles to keep going at the rate of three times a week.
In the meantime, I am working to see what new business I can drum up and what I can sell off.
Hire me for something will ya? (Seriously, writer for hire!) Or you can always leave me a tip!
Thank you for reading this post. You can now
Leave A Comment (0)
or
Leave A Trackback.
Read More
Related Reading: