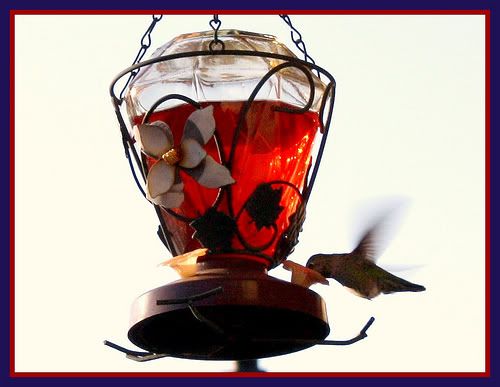 So contrary to what some people want to believe, spring has not sprung and probably won't for a little while. But I can't help but think about it–and I am not alone.
Fawnskin folks had to wait for street plowing and are still dealing with the aftermath of the most recent snow fall.
However, despite the fact that we had snow here down at 3100 feet in the desert, it has warmed up a bit more during the day.
It is still cold at night and doesn't FEEL like spring but it certainly makes one think of the season change.
Now I bring up spring because people get a bit anxious about it–and this year people WANT to focus on it because of the drop in temperatures and the snow fall across the country.
We have always had the most snow in February and March (or at least it seems like it) so change is not so far away, and although we have received a lot of precipitation, the early part of the winter was pretty warm.
I mean seriously, rain?
Anyway, today I was thinking about that nice hummingbird feeder that Snoop Sister Deb got for me. Mountain folks tend to be bird crazy and like to feed them too.
And, some people are trying to corrupt me so that I feed the birds.
So, just what is the best thing to do for the hummingbirds when they do begin to appear?
Don't feed them that red crap and don't use honey either because it is not good for them.
You can make your own hummingbird food simply by using a 4 parts water to 1 part sugar. Just boil the water and add the sugar so it dissolves and then let it cool.
Did you know that you are not supposed to leave the feeder out in the direct sunlight? You should change it out daily, or at least every other day, because if you don't, you can make those little hummers sick.
A colorful gaudy feeder can attract the tiny birds but I am anxious to see how my beautiful embossed glass feeder with fancy colored tin petals does because it is beautiful and ended up in my home because I kept commenting on SSD's identical one in her yard.
Yes, coveting someone else's bird feeder…I admit it.
Now, as you can see, I am pondering heading home soon because I am thinking about my garden and the critters who keep me company.
So, my advice for you today is that if you want to put your thoughts into things beyond shoveling, knocking down ice-cycles, and other related tasks, try reading a few hummingbird books or books on high altitude gardening.
Photo Credit: Prayer Friends
Thank you for reading this post. You can now
Leave A Comment (0)
or
Leave A Trackback.
Read More
Related Reading: