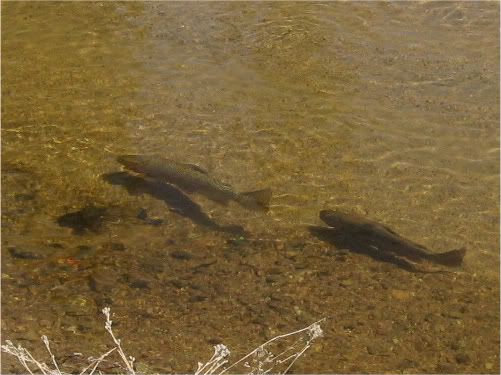 Above: Fawnskin Trout Heading Upstream in Grout Creek
So has spring sprung in the mountain lake resort of Fawnskin? Let's hope so.
But it caught me a bit off guard, I mean there were bugs, and then a couple of blooms but the sunburn…well, yes, I should have been wearing block…but the thing is, the sun felt good–and I was missing the desert and so, GG had a brain fart.
Plus, GG had company. Meaning I wasn't the only mountain resident who was out enjoying the sun and got a sunburn!
But I did also have visitors–which was good since it helped me to finish up that closet cleaning project. Now you can actually walk into my place and there is space instead of piles.
Eesh.
However, my outdoor chairs need replacing. I hate to toss them but they are looking a little raggedy.
I love the wicker rockers but they never last long around these parts with the weather elements.
Despite the sun bleaching the chairs, I love using my outdoor table and eating out on the deck when it is warm enough to do so.
Anyway, just like the weather, there seems to have been a shift around these parts.
Things are changing, some for good and some, uh, not so good.
Like the Weight Room…gone, gone, gone. The place is empty and people are wondering what happened to their jobs and memberships since the place is empty. Just.Like.That.
Also, there is a hint that change is a'coming to Channel 6 which is supposed to be announced in a couple of weeks.
Around Fawnskin, the change this year is the big sediment in Grout Creek which has raised the creek bed high enough for the trout to make it over the falls and up the creek!
It is BIG news and super exciting for folks around these parts and for those who come to visit.
In fact, I took m Los Angeles visitors, Barbara & Erica, down to see the trout and then play toured guide around the mountain.
I forget that most people never really experience nature and really never get to enjoy it. One of the reasons many of us live here is because of the life style and nature.
When I have company, it reminds me about that.
It also gets GG to stop and enjoy life instead of work, work, work or worry, worry, worry.
So, it was fun.
It ended up being a lake tour day–but not just here. We headed down to enjoy The Bus Stop Coffee House which has remained a favorite of mine despite the fact that I haven't been down to enjoy it since early winter back in 2010.
After a scrumptious lunch and super-fab coffee drinks, we headed over to Arrowbear Lake so I could show them the little shrine and the tiny lake that most people don't know about.

Of course, if you have been a Arrowbear music camp participant or fan, you probably know it exists. The music camp has been in operation there since 1942.
As for the shrine, all GG knows is that the place used to be a Catholic retreat and when they moved, the place was restored to natural land, except for the shrine which remains nestled in the boulders above the small water fall that empties into Arrowbear Lake.
We saw people enjoying the sun and the fishing and, if you have not been there, it is a great little spot for a quiet escape since the Department of Fish & Game keeps the place stocked.
Also, the little adjacent Arrowbear Park was busy with lots of people at the baseball diamond and playground. It is a family friendly place.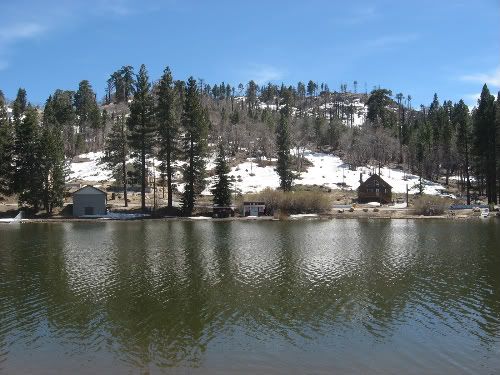 We next headed up to Green Valley Lake to visit the little town that mostly managed to survive the last wildfires. I hadn't been up since snooping out the fire damage a few years ago and so it was nice to see the recovery.
We managed to enjoy the mix of warmth with visuals of snow patches here and there, which was a reminder that we were finally experiencing a change in the season.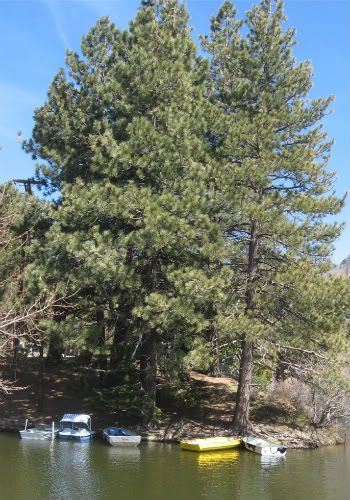 But the boats on the lake and the fishermen all indicated that the spring was heading into summer soon and that water sports were really replacing the winter sports.
Only Snow Summit remained opened. The snow melt was pretty amazing and rushing back down towards the lake. Brown patches of dirt were showing at all the other resorts we visited.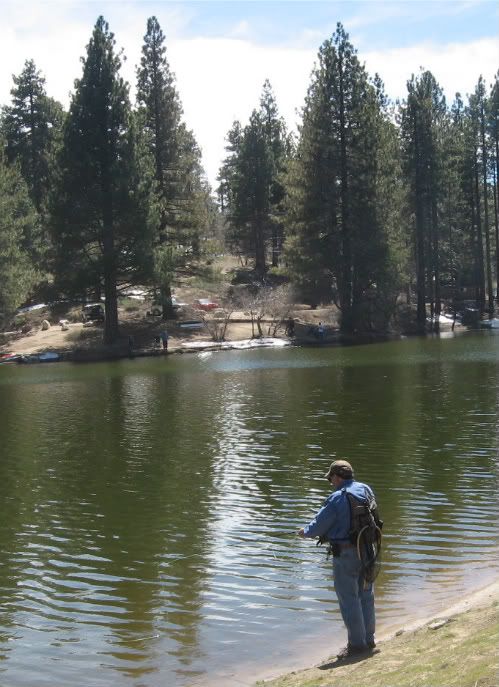 Okay, so I guess I should share some of the news from around these parts?
First, GG found her wayward camera–did you miss my snaps?! This is BIG breaking news around here!
But seriously…
The MS Walk participants were at it as we headed out of town and I am waiting on the tally about the money raised by the event. It tends to take a while to get final figures. Since Moose Lodge 2085 was active (as usual) I am hoping to get the update from them in the near future.
Now the following information was sent out by the Friends of Fawnskin, so if you have any questions about it, you can contact Sandy Steers via [email protected] I believe she can send out the link to the public comment URL on the Marina Development project if you need it.
Wednesday, April 20, 2011
The Moonridge Animal Park move will be discussed at the County Parks & Recreation open house. If you want to view plan maps and discuss the proposed move–this is the time to do it. They will also embark on the Environmental Impact Study process and are open to comments. If you would like to find out more join the meeting from 7:00pm until 9:00pm at the Baldwin Lane Rainbow Kids Club facility.
Big Bear Area Regional Wastewater Agency (BBARWA) public hearing on sewer charges will also held on April 20, 2011 at 5:00pm at 121 Palomino Dr. in Big Bear City.
Friday, April 22, 2011
The CSA-53B public hearing on the sewer charges will take place at 7:30pm at Fawnskin Fire Station 96 located on 39188 Rim of the World Dr. in Fawnskin.
FYI: CSA-53B is the County service area which directly provides sewer service for the Fawnskin area. CSA-53B is a client of BBARWA, which handles the wastewater for the entire valley. Any BBARWA rate hikes would go to CSA-53B and most likely be passed along to residents.
Monday, April 25, 2011
If you want to chime in on some other goings on…Big Bear Lake Department of Water (DWP) provides water service for Fawnskin (and several other areas in the valley).  Under consideration is a take over by the Big Bear Lake Municipal Water District (MWD), the organization that manages the lake. (DWP is under the wings of the City of Big Lake and there will be a Budget Workshop at City Hall/Hofert Hall at 9am.) You can also elect to attend MWD's board meeting on Thursday, May 5th at 1pm on 40524 Lakeview Dr. in Big Bear Lake and share your concerns and comments.
Saturday, April 30, 2011
Friends of Fawnskin (FoF) will meet on at 10:00am at the Discovery Center in Fawnskin and guests are welcome.
FoF will be sharing a brief update on the status of development proposals currently in process around the valley and hold an open forum for questions, comments and suggestions on any related topic.
Be sure to give 'em your suggestions or requests for the town hall meeting coming up this summer.
Fawnskin Development News
Marina Point Development has submitted an application to the Army Corps of Engineers requesting a permit for dredging. Since the appeals court overturned our original win on this case, they now have an approved project and are apparently beginning the process of renewing their permits to proceed. There is a public comment period on this Army Corps permit request with the deadline for comments on May 6, 2011. Friends of Fawnskin will be submitting comments, but we also encourage individuals and other organizations to do so as well
Saturday, June 18, 2011
4th Annual Fawnskin Town Hall Meeting! Probably 10:00am but wait for the official announcement closer to meeting date.
Thank you for reading this post. You can now
Leave A Comment (0)
or
Leave A Trackback.
Read More
Related Reading: