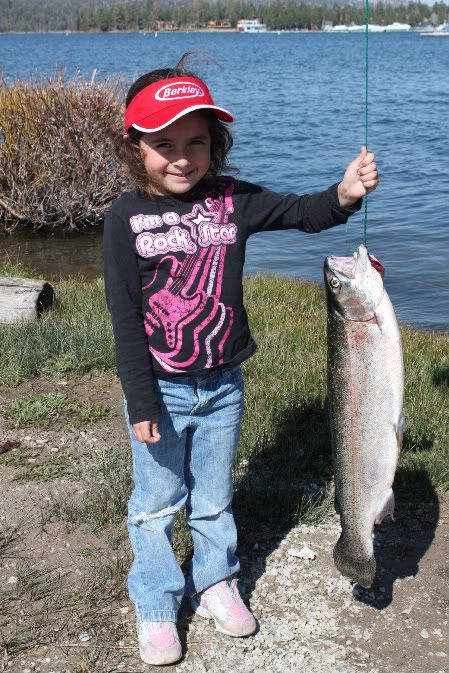 Above: Five year old Kayla Knoob (Fountain Valley) landed a 7.94 lb. Big Bear Bow.
Fishing & Fishy in Fawnskin
Triple F for short. Heh, heh.
So Fawnskin has been identified as the spot to go fishing but things can be a bit fishy around these parts if truth be told–but then we always don't get around to the truth–why let it get in the way of a good story?
First, fishing near the tributaries can get you in a lot of trouble but fishing out on the lake for from the lake shore is okay as long as you have a valid fishing license.
You can pick them up around the valley and Mike over at Fawnskin Market can help you out with bait and a lot of other necessities.
It is getting a bit fishy around these parts since the trout are now stranding here and there and you can smell them. Fortunately, the predators are finding these tasty snacks and disposing of them pretty rapidly–although a few manage to sit and rot in some odd places.
We saw one on the trail the other day and another over on Rim of the World. My guess is a local canine or two caught a fish and then lost interest.
Speaking of fish tales, while I was downtown (LOL–do you like that?), Andy had me scope out his work on his magnetic sign–which he is still fiddling with.
It does invite you to drop in–so go torment him and tell him it is his own fault.
Actually, Andy is a really good tall-tale-teller but said he is the world's last magnetic sign mechanic.
No wonder it isn't working right! It has one little yellow spot that sticks through all the messages and not all of the things shift–which makes it hard to read. But it is doing something at least.
We can be glad there isn't a big demand for those magnetic sign services but then we all know he is best at tale-telling anyway.
Big Bear Fishing Report
The Big Bear fishing report is courtesy of Alan Sharp of Big Bear Marina who reports that the trout fishing is so good that the fisherman are scoring big. Both boat and shore anglers are catching their limits of trout pretty quickly with most being in the one to two pound range but the larger fish are starting to show up as the brood stock comes out of spawn.
In contrast the bait anglers are seeing fish from 5 to 8 pounds (using PowerBait) off of Grout Bay and Boulder Bay. As all Fawnskin Folks know, tishing off the North Shore remains steady from Stanfield Cutoff to Juniper Point.
The amazing news is that trollers working Trout Triangle (Eagle Pt. to Lagonita Pt. to the Solar Observatory) are getting limits in an hour! They are finding leadcore down 3 to 4 colors with Needlefish and Rapalas in tow works the best. Alan says to remember to troll s-l-o-w-l-y.
Okay, the news is that I have to manage to find my way down to Ontario airport on Wednesday and will be gone for a week. If you are heading that way, let me know–otherwise I'll see you when I get back.
I have scheduled a few things for you while I am gone–but I know you will miss me a whole lot!
Thank you for reading this post. You can now
Leave A Comment (0)
or
Leave A Trackback.
Read More
Related Reading: