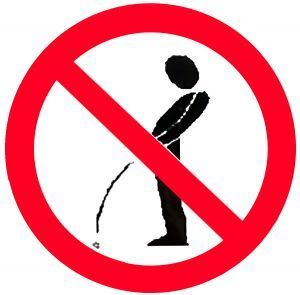 Public peeing? Are you kidding me?
Nope. GG is not.
This was big breaking news from the parking lot at Interlaken on Monday afternoon. A guy was actually peeing next to his truck. At least he was using his door as a shield.
But it makes a person shake his or her head in disgust.
I mean seriously, most of the local businesses in the center have public restrooms. He was right in front of DIY too. Only steps away.
So, I bet he was compromised with alcohol but you never know around these parts since the oxygen deprivation or entitlement crown visitors wear also contribute to these types of issues.
Now, peeing in public seems to be such a trend that they have signs for it.
Seriously!
Up North on the 50 acres my brother owns, his little boys are motivated to learn proper toileting habits through the use of peeing out in nature. I found it funny that my 3 year-old nephew would get out of the car and pee out in nature–mostly to see how far he could shoot his stream.
But a grown man in a public parking lot? Never mind sanitation, how about indecent exposure? I mean, I bet I was not alone in not wanting any glimpse of the action or source!
So, on to other non-news…
The old Hogs Haven work is moving along nicely. The place should be getting a nice coat of paint if everything goes as anticipated this week.
Andy Campbell reports that the mobile service provider is supposed to be getting with things this month and promises to report back when he knows they have been added to the tower.
We are going to be cutting edge in Fawnskin with all this newfangled service.
Mike & Deb Heidmiller celebrated three "official" years together yesterday and were seen celebrating over at the Peppercorn restaurant. The two have been together 19 years or so. You can read more about how Fawnskin Folks Crashed the Wedding.
Doug & Kelly will be leaving Fawnskin this week but we are hoping they find a new place locally soon. I'll miss having them as neighbors but hope that they enjoy themselves!
This upcoming weekend is Memorial Day so you might want to head out to do some shopping since it is libel to be pretty busy.
Earl Cline appears to have sold the Shirt Shanty but failed to give GG the heads up! *Gasp* but then we know GG doesn't rate.
I was sad to hear about the murder-suicide that took place just down the road from a couple of my pals on Monday. The husband shot and killed his wife and then committed suicide. The two owned animals that were taken in by some neighbors until they could be boarded and are awaiting pick up now.
This weekend will be a big one full of activities and frivolity and Highway 330 is supposed to be open from Highland to Running Springs–so stay tuned for more tidbits a bit later in the week!
Thank you for reading this post. You can now
Read Comments (2)
or
Leave A Trackback.
Read More
Related Reading: