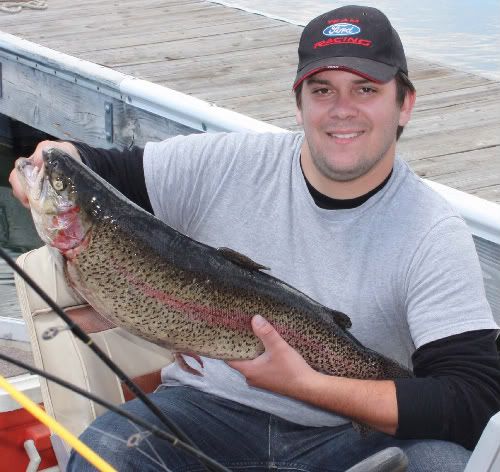 So, something fishy is going on around these parts–with the new precipitation we are still keeping an eye on the trout up Grout Creek but GG failed to mention the May Trout Classic.
That did not mean that I wasn't thinking about those angler out in the winds, heavy fog and snow. Now I understand that the lake was inhabited by some fine fish but had to question the sanity of those half a dozen boats lingering on the surface during the inclement weather.
Smart or stupid?
You tell me–kinda like skiing in a blizzard, why would you do it?
Now in preparation for the even Jason Hall ordered $8000 of trophy sized trout. There were already a bunch of large beauties residing around these parts so this was an added bonus.
Locals know that the Trout Triangle is the best spot and people have been bringing in lots of fish and catching their limits quickly.
In case you don't know what I mean it is located right in front of Big Bear Marina and and runs form Lagonita Point to the Observatory and then over to Eagle Point.
Although the event allows for 525 anglers–registration was not even close. However 364 participated and over the last 29 years these dedicated sports fishermen have helped to stock the lake with 224,500 pounds of trout.
I learned from Alan Sharp that most participants sensibly only fished on Saturday. Due to the light fishing pressure on Sunday, only two spots changed from Saturday's weigh-in and here are the results:
Adult Division
The big winner with a 9.10 pound trout was Jack Storti of Westlake Village, California. ($1875.00)
Big Bear City angler David Marshall took second place with an 8.78 pound trout. ($1275.00)
Fawnskin resident Bob Mc Grew landed an 8.37 pound trout ($900.00).
Junior Division (12-15 years)
Cody Hemsley from Fontana took top honors with a 2.39 pound trout.
Pee-wee division (5-11 Years)
Michael Torres from Orange brought in a 2.59 pound rainbow trout.
Want to know the secret of fishing success?
The majority of the large fish were caught on Berkley PowerBait while drift fishing or Luhr-Jensen Needlfish trolled with lead core.
Congratulations to all the winners!
Highway 330 Closure
After my posting of the recent news about Highway 330 I discovered that it will be closed on Wednesday, Thursday, and Friday, May 18th through May 20th 2011.
Limited one-way commuter access will resume after the above closure dates and it is advised that locals monitor the commuter alert for current scheduled access hours and restrictions.
In addition, everyone is suggesting that motorists use extreme caution while navigating the construction areas filled with heavy construction vehicles.
Word out on the street is that there is hope that the route will be restored for commuter access on Monday, May 23rd.
Bye-Bye Starbucks in the Village
Lots of people have been wondering why Big Bear has three Starbucks but with the road closure and plummeting sales all around the valley, the Big Bear Village location will close May 20, 2011. This will bring those employees over to Interlaken and give Amanagela's some added business–at least we hope so!
Photo courtesy of Alan Sharp (Big Bear Marina)
Thank you for reading this post. You can now
Leave A Comment (0)
or
Leave A Trackback.
Read More
Related Reading: